In an incredible joint press conference on Friday, Donald Trump heaped praise on "incredible" Theresa May and hailed UK-US relations as the "highest level of special", just hours after explosive comments he made about her premiership were published in a British newspaper.
After intensive talks at Chequers, the Prime Minister's country residence, in the wake of an interview in which he said May's Brexit plans would kill off a trade deal with the US, the President told May "whatever you do is OK with me" but urged her to "make sure we can trade together".
Here are the key moments from the press conference, where both leaders took questions from reporters.
The 'Love Actually' moment
Ahead of the press conference, fans of the kitsch Christmas film Love Actually expressed hope the Prime Minister would strike back against Trump's less-than-gracious comments about her in The Sun.
Some of them may have hoped that May was taking inspiration from Hugh Grant, who plays a recently-elected UK Prime Minister in the film, when she slapped him down over the topic of immigration.
Pressed on claims that immigration had damaged the cultural fabric of Europe, Trump said: "I think it has been very bad for Europe. I think that what has happened is very tough. It's a very tough situation.
"I mean, you see the same terror attacks that I do. We see them a lot. I just think it's changing the culture. It's a very negative thing for Europe. I think it's very negative."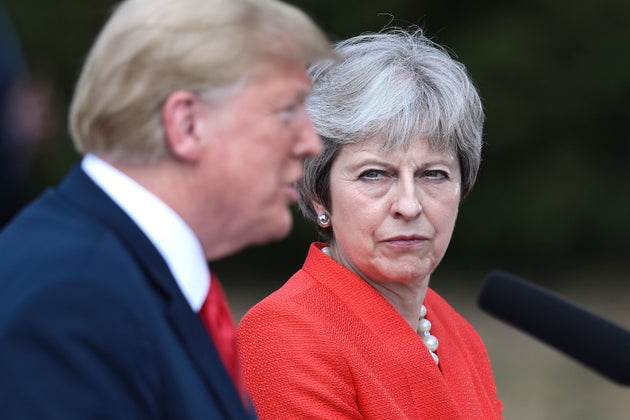 May however responded by saying Britain has a proud history of accepting immigrants.
She said: "We have a proud history of welcoming people who want to come to our country to contribute to our economy and contribute to our society.
"And over the years immigration has been good for the UK. It's brought people from different backgrounds and with different outlooks to the UK and that has made a positive contribution to our society.
"But what is important is that we have control of our borders and that we have a set of rules that allow us to decide who comes into our country."
When Trump went anti-nuclear
Trump said: "We discussed a range of priorities including stopping nuclear proliferation. I thanked (May) for her partnership in our pursuit of a nuclear-free North Korea. We both agreed that Iran must never possess a nuclear weapon.
"I will discuss nuclear non-proliferation with Putin. To me it would be tremendous if we could do something with Putin on nuclear non-proliferation
"I mean to me, it's the biggest problem in the world, nuclear weapons, biggest problem in the world," Trump said.
"If we can do something to substantially reduce them, I mean, ideally get rid of them, maybe that's a dream, but certainly it's a subject that I'll be bringing up with him," he claimed.
Trump added: "It's also a very expensive thing but that's the least important."
For context, the US and Russia are by far the world's biggest nuclear powers.
Trump plays kingmaker on Boris
After lavishing praise on Boris Johnson in his incendiary interview with the Sun just days after he walked out of Theresa May's cabinet over her Brexit plans, Trump told reporters that Johnson would be a "great prime minister."
He added: "He's been very nice to me. He's been saying very good things about me as president. I think he thinks I'm doing a good job. I am doing a great job, I can tell you, just in case you haven't noticed.
"Boris Johnson, I think, would be a great prime minister."
'The highest level of special'
While May made mention of the historic special relationship enjoyed by the countries, she was decidedly measured in her tone.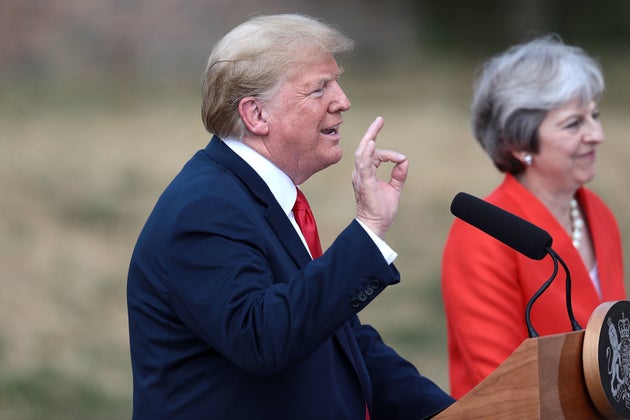 When Robert Peston, ITV's Political Editor, asked Trump whether the relationship with the UK is now "more special" than ever before, an ebullient Trump replied: "I grade the relationship the highest level of special. Especially now after 2 days – the highest level of special. Am I allowed to go higher than that?"
'Fake news'
After listening to Trump lavish praise upon May, the BBC's Laura Kuenssberg cut straight to the chase on his interview with The Sun, telling him: "You seem rather to have changed your tune from earlier this week.
"Our countries are meant to have a special relationship and yet you publicly criticised the Prime Minister's policy and her personally for not listening to you this week - is that really the behaviour of a friend?
A belligerent Trump leapt in with the retort: "I didn't criticise the Prime Minister, I have a lot of respect for the Prime Minister and then proceeded to brand the interview "fake news."
Trump had left May badly wounded when he criticised her negotiating style, lavished praise on Boris Johnson and attacked her Brexit plan in his interview with The Sun.
When asked about his remarks, Trump said The Sun story was "generally fine" but missed out his positive comments about May, adding that the White House records all interviews.
"I didn't criticise the Prime Minister… It's called fake news and we solve a lot of problems with the good old recording instrument," the president said.
Later, during an exchange with The Sun's reporter Tom Newton Dunn, who wrote the article in question, Dunn said the article did include the positive comments he made, to which Trump replied that he was upset they weren't in the headline, rather inferring he had not read the piece.
Responding to Trump's remarks, a Sun spokesman said: "We stand by our reporting and the quotes used – including those where the President was positive about the Prime Minister, in both the paper and in our audio – and we're delighted that the President essentially retracted his original charge against the paper later in the press conference.
"To say the President called us 'fake news' with any serious intent is, well… fake news."
Bald-shaming
Reuters reporter Jeff Mason attempted to direct a question at Trump, who instead asked: "I like your hat. You look without it too, a good head of hair, a good, solid head of hair."
When the reporter protested he did not, Trump continued to press him, saying: "I know exactly what you have Jeff… I like you better without the hat", until Mason removed the hat to reveal, yes, a balding head.
Source: huffingtonpost