A police boss has hit out over ministers cutting back on crime-fighting budgets, posing the stark question: "What should policing stop doing?"
The letter to police inspectors from David Jamieson, West Midlands police and crime commissioner (PCC), comes after the latest police funding settlement was branded "unforgivable".
Despite a nationwide spike in knife crime, the forces' budget will be cut by £8m in the coming financial year, a leaked document seen by HuffPost makes clear.
A government-imposed pensions uplift has left a blackhole in force budgets, meaning that all of the £303m "new" funding will be swallowed up to pay for it and police chiefs will be left with a £7.9m cut to their finances.
The stealth cash-terms reduction was made even though policing minister Nick Hurd vowed the budget would be "protected".
The leaked document, circulated to the Association of Police and Crime Commissioners, warns of a ninth consecutive year of real-terms cuts in central government funding.

It comes after Home Office figures made public in January revealed violent crime had risen by 19% in a year.
The number of homicides - including murder and manslaughter - rose from 649 to 739, an increase of 14%, in the 12 months to the end of September 2018.
It represented the the highest total for such crimes since 2007.
Labour PCC Jamieson, in a letter to HM Inspector of Constabulary Sir Tom Windsor, shared with HuffPost, has called for power-holders to "fully acknowledge the reality faced by the service".
He described a "climate of overwhelming demand and diminished resource" on the ground and how police were compensating for a wider deterioration of public services.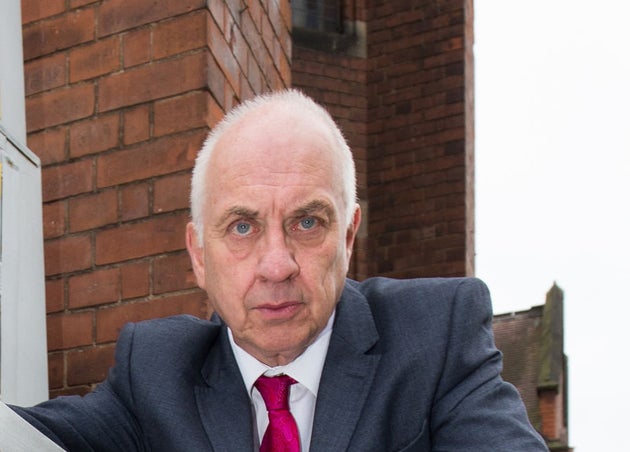 Cops were grappling with so-called 'county lines' criminal gangs exploiting young people as well as a "huge rise in school exclusions" driving crime, he said.
Mental health cuts, under-investment in drug and substance misuse services and council cuts were also having a "significant knock-on effect".
Jamieson was responding to a call by Sir Tom asking PCCs how they thought forces could "provide the best possible service to the public in the year ahead". He concluded his letter by saying:
"The questions were are grappling with in the West Midlands are: in light of rising demand and without substantial investment in policing forthcoming, what is a realistic level of service that can be delivered by the police service?

"What should policing stop doing?"
MPs passed a new £7.8bn funding package for police and local government on Tuesday night.
The government claims it contains an "additional" £161m for policing, but all of that extra cash will go on pension payments, the APCC data says.
Without more money, the only way forces can fund extra policing is by asking local taxpayers' to agree up to £24 more on their council tax bill.
Shadow policing minister Louise Haigh said: "The truth is on police funding, the government simply cannot be trusted.
"Instead of spending grant money on priorities like fighting crime and child sexual exploitation, the police will be forced to plug the pensions black hole which the government created in the first place. A ninth year of real-terms cuts in Tory funding to local forces is unforgivable with surging violent crime."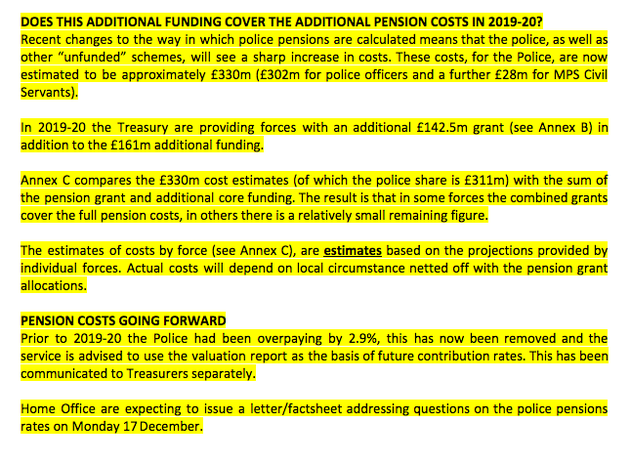 A Home Office spokesman claimed the settlement was "significant" and "the biggest increase in police funding since 2010″.
He added: "We are providing total funding of up to £14 billion, an increase of up £970 million – including money raised through council tax - compared to 2018-19.
"This settlement recognises the demands on the police and will enable forces to meet financial pressures, while also recruiting more officers and being better placed to respond to the increasingly complex crimes they face."
Source: huffingtonpost