As I step down as CEO of Dearman, I must admit that a piston engine that runs on nothing but air - the basis of the last 12 years at Highview and Dearman - does sounds like a hoax. That's what Lord Sugar thought when Peter Dearman wrote him a one line email at the Mirror national newspaper to try to get some publicity for his car running on liquid air.
"Dear Sir Alan, I have invented a car engine which uses liquid nitogen or air as fuel. It uses no fossil fuel, produces no pollution and is cheap to manufacture."
Lord Sugar replied in his column "I was not sure whether the email was one of my pals trying to wind me up until I looked at your website .... I'm no expert, but if there are any engineers who wish to have a peep, look at the website and get in touch with Peter. But if you [Peter] are trying to pull the wool over their eyes, forget it, as any credible organisation will just have a good laugh."
But after 12 years working with Peter, I am so glad that I was naïve enough (and not an engineer) to lift the bonnet and take a peep; and instead of laughing at the home-machined parts, coke bottles, beer keg and pieces of string, saw him for what he is - a classic British garage inventor who is neither mad nor a hoaxer, but just sees the world very differently.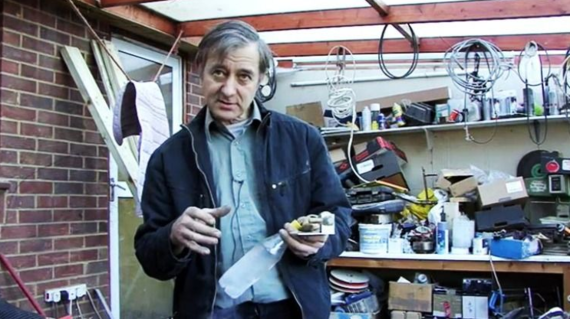 Today, Peter's invention has attracted tens of millions of pounds of investment from government, private investors and industry partners, and spawned a whole new industry - clean cold. The importance of this has been recognised in several major reports, including the University of Birmingham led a policy commission, 'Doing Cold Smarter' chaired by Lord Teverson last year.
Highview Power Storage, the first company born out of Peter's invention, has built and tested a full system prototype (now a test-bed at the University of Birmingham) and is close to switching on a 5MW grid-scale liquid air energy storage system, while Dearman is road-testing a zero-emission transport emission unit running on liquid nitrogen with Sainbury's - the first of a portfolio of products delivering clean cold and power.
While Highview is working on larger, grid-scale (tens of MW) systems with GE and others, a consortium led by Dearman has recently secured £15 million in funding from the Advanced Propulsion Centre and industrial partners to develop its suite of clean cold and power applications. Dearman, with international partners, also has two government funded programmes in India and Malaysia; one for data-centres and one for zero-emission cold chain.
Additionally the University of Birmingham has secured government support for the Birmingham Centre for Cryogenic Energy Storage (BCCES): a £12 million project including bespoke cold / thermal and cryogenic energy storage and engine laboratories and equipment and test-beds. The University of Birmingham and the research arm of State Grid Corporation of China (SGCC) have unveiled a Lab on Energy Storage Research in thermal and cryogenic energy storage and their integration and application in energy networks.
This year the British government has funded the Thermal Energy Research Accelerator to accelerate novel cooling technologies through to market. While even the EU is in on the act, giving €7 million for the Cryo-hub, a pan-European consortium to research the potential efficiency gains that might be achieved by integrating Liquid Air Energy Storage with existing cooling and heating equipment found in refrigerated warehouses and food processing plants.
All this from a garage in Bishop Stortford.
-- This feed and its contents are the property of The Huffington Post, and use is subject to our terms. It may be used for personal consumption, but may not be distributed on a website.
Source: huffingtonpost