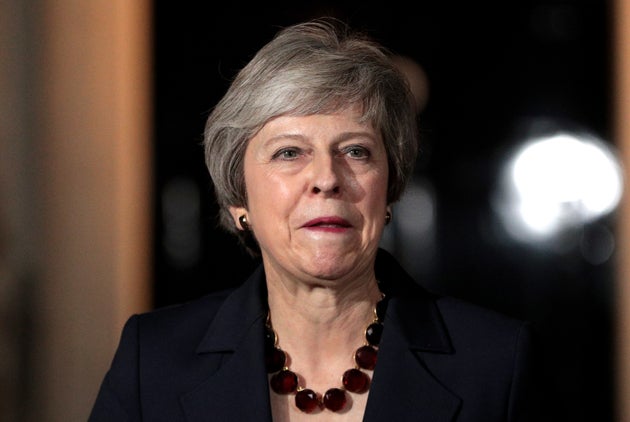 Almost half of voters back Theresa May staying on in Downing Street, at least until Britain leaves the European Union, according to a new poll, giving the embattled PM a sliver of solace on what has otherwise been a hellish week.
A survey for the Sunday Mirror and Sunday Express found 47% of people want May to carry on until Brexit is due to happen in March - including 75% of Conservative voters.
A third (33%) of those polled by ComRes believe she should quit before Brexit.
However, there was a more even split when the poll asked if she should carry on "for the foreseeable future", with 38% saying she should and 41% saying she should not.
But new polling showed May's Conservative Party was on the slide against Labour.
A ComRes poll for the Sunday Mirror and Sunday Express saw the Tories leak three points, falling from 39% to 36% since September, while Labour remained on 40%.
Meanwhile an Opinium poll saw Mrs May's divided party drop five points from 41% to 36%, with Labour overtaking them from 37% to 39% compared to October.
It comes after Brexit-backing Commons Leader Andrea Leadsom said on Saturday that there is still time for "more to be done" on the Brexit deal as the Conservative Party continues to row over May's Withdrawal Agreement with Brussels.
Leadsome said she supports May but suggested there is an opportunity before a special European Council meeting on November 25 to get "the best possible deal for the UK".
Her comments came after Brexiteers vying to oust May were warned their efforts could drive Remain-voting Tories to attempt to stop Brexit entirely.
But the new poll brought bad news for some of her possible challengers, with just 8% of voters wanting Environment Secretary Michael Gove to take over if May steps down.
[READ MORE: Who could replace May? Here are the runners and riders]
Foreign Secretary Jeremy Hunt fared little better on 10%, with high profile Brexiteer Jacob Rees-Mogg on 17%.
Boris Johnson was backed by 21% of those polled - but he was also the most actively opposed, with 61% against his appointment. Just 19% were "don't knows", the lowest of all four.
The survey of 2,000 adults carried out on Wednesday and Thursday at the height of a chaotic week in politics saw the Conservatives drop three points to 36%, while Labour remained on 40%, compared to a Sunday Express poll in September.
But there was less good news for Labour, with the survey finding only 25% of people want the prime minister to call an immediate general election.
It also found a second referendum would be a close call, with Remain beating Leave by 45% to 43%, with 10% of people saying they had "had enough of Brexit and wouldn't vote".
This was despite 53% of those polled saying there should not be a second referendum.
Source: huffingtonpost