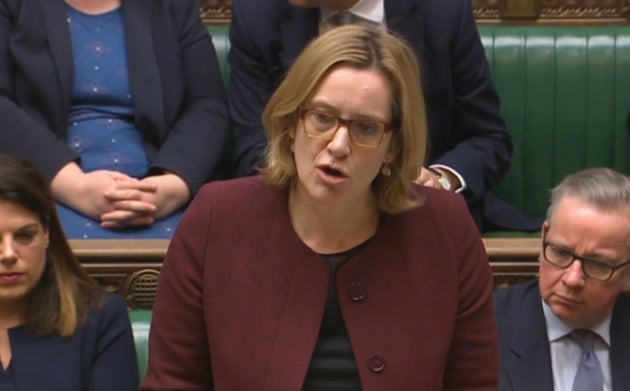 Amber Rudd has apologised for not knowing the Home Office had a target for the number of people to deport, amid calls for her to resign.
Earlier this week, the home secretary told MPs she did not know of any targets but on Friday The Guardian published a leaked memo sent to her in June 2017 that specifically acknowledged them.
She said she did not read the memo The Guardian revealed, adding it "was copied to my office as many documents are".
In a series of tweets,Rudd said she accepted she should have been aware such targets existed "and I'm sorry that I wasn't".
She also said she would make a statement to the House of Commons on Monday to answer "legitimate questions that have arisen on targets and illegal migration".
"As Home Secretary I will work to ensure that our immigration policy is fair and humane," she added.
Her tweets came hours after the leaked memo was revealed and political journalists waited on tenterhooks to see if she would resign.
Shadow home secretary Diane Abbott tweeted that Rudd was "hanging by a thread".
Abbott said Rudd was trying to "shield the prime minister from her responsibilities as the initial architect of this cruel and callous approach to migration".
″[Rudd] failed to read crucial documents which meant she wasn't aware of the removal targets which have led to people's lives being ruined," Abbott said.
"Another apology is not enough, she should take responsibility for chaos in the Home Office and resign."
The SNP had said Rudd's position was "untenable", as the leaked memo suggested she had misled MPs.
On Thursday, Rudd told the Commons that while the Home Office did have deportation targets – she did not know about them.
Rudd had initially unequivocally claimed her department had no targets. "We don't have targets for removals," she said.
She told MPs after it was revealed the Home Office did in fact have targets: "Some offices are working with them. Unfortunately I was not aware of them and I want to be aware of them.
"I have never agreed that there should be specific removal targets and I would never support a policy that puts targets ahead of people."
Rudd was being questioned by MPs over the fate of the Windrush Generation, immigrants who came to Britain in the 1940s, 50s and 60s, some of whom were caught out by tougher immigration rules and faced deportation.
According to The Guardian, a secret internal Home Office document referred to the department setting "a target of achieving 12,800 enforced returns in 2017-18" adding "we have exceeded our target of assisted returns".
The six-page memorandum, prepared by Hugh Ind, the director general of the Immigration Enforcement agency, last June, was copied to Rudd as well as to Brandon Lewis, the then immigration minister, and a number of senior officials and special advisers.
Rudd made matters worse on Thursday when she suggested the UK may not leave the customs union after Brexit – a direct contradiction of Theresa May's official position.
Source: huffingtonpost