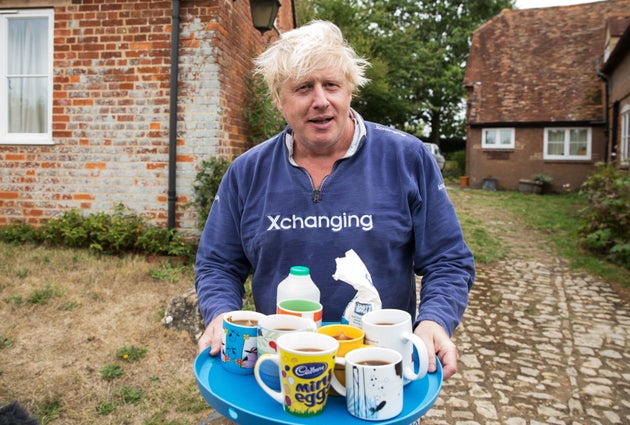 Boris Johnson has ducked questions over his controversial comments about women in burkas as he emerged from his Oxfordshire home to offer cups of tea to journalists.
A week ago, the former Foreign Secretary likened women who wear the Muslim face veil to letterboxes and bank robbers and prompted outrage even from within the Conservative Party.
Johnson, whose latest weekly column in the Daily Telegraph has avoided the controversy, has yet to publicly comment on the backlash to his remarks.
Most recently, the campaign group Tell Mama claimed there was a "direct link" between the ex-minister's comments and an increase in incidents in the last week targeting women who wear the niqab.
Despite being asked if he "regretted his comments", the one-time Tory leadership hopeful evaded the questions. "I have nothing to say about this matter except to offer you some tea," he said.
Johnson quipped the reporters had been on a "humanitarian mission" and that he felt "very sorry" for them.
The gesture - whether genuine, tongue-in-cheek or spin - prompted anger among some on social media.
Former Labour director of communications Alastair Campbell hit out at him "inspiring extremists to attack women". "Total charlatan. Revolting on so many levels," he added.
Labour MP Wes Streeting said: "It's all just one big jolly old jape for Boris Johnson isn't it? Not so funny for the Muslim women who've experienced the backlash as a result."
Comedian David Schneider added: "When you set the whole country on fire for something you don't really believe in then incite racial hatred all for personal gain but still want to show what a nice guy you are."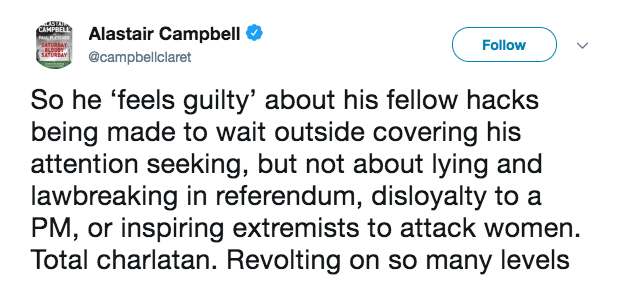 And David Baddiel went a bit further.
Others could not resist a dig at his tea-making skills.

But he has his supporters.

Tell Mama, which records hate crimes, says there has been an increase in Islamophobic incidents targeting victims wearing headscarves and veils in recent days.
The majority of niqab-wearing victims who have called Tell Mama's helpline since the article appeared said the perpetrator either used phrases such as "letterbox" or referred to Johnson, it said.
In the week before Johnson's comments, Tell Mama reported no incidents against women wearing a niqab.
But women wearing the niqab were targeted on August 8 in London, followed by another three incidents in London and Luton the next day, and a fourth in the capital on Friday.
"This is what language does," Tell Mama said. "It does not fence off actions in the minds of perps but means identifiable Muslim women are also affected."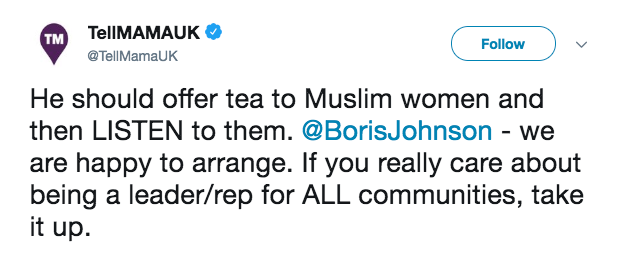 In his latest Daily Telegraph column, Johnson called for cuts to "absurdly high" stamp duty and warned of an "oligopoly" of construction companies reducing the supply of new homes by "land-banking".
Meanwhile, former Trump aide Steve Bannon has said Johnson has the potential to be a "great prime minister",
The US right-winger, who masterminded Donald Trump's 2016 presidential election bid and joined him briefly in the White House as a senior adviser, also praised English Defence League founder Tommy Robinson as a "force of nature".
Source: huffingtonpost