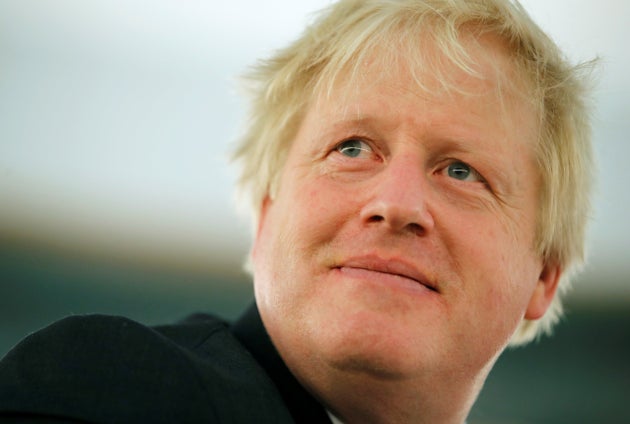 In his first television interviews since resigning as foreign secretary, Boris Johnson said Chequers would be a "political triumph" for Brussels.
He said that while the EU has "formally" rejected Theresa May's Brexit plan for now, Johnson says in time they will accept "something like it".
He refused to rule out that he hopes to oust May from the premiership.
His comments follow an article for The Telegraph on Friday, in which he set out his "plan for a better Brexit" and said the UK should pursue a "super Canada trade deal".
In an interview with BBC News, Laura Kuenssberg repeatedly asked Johnson whether he was planning on challenging May.
She said that the suspicion among "many of your colleagues, many people in parliament, many people in the country" is that he is being so outspoken on Chequers because he thinks he "will do a better job in Number 10″.
She challenged him to end the speculation and say he would not run for leadership.
However, he did not expressly rule it out and instead said he had set out his alternative plan for Brexit because he believes in it "very very sincerely" and that he is going to keep going "for as long as it takes".
In a separate interview with Sky News, Johnson told Beth Rigby that May's Chequers deal would show that the UK, "for all its power and might, for all the two trillion pound economy that we have, the fifth biggest economy in the world, that when it came to it was" unable to reclaim its power from the EU.
He said: "My anxiety is that, you know, yes it's true, formally speaking, that the EU has rejected Chequers. And they will, because it breaks up their idea of the unity of the four freedoms and the coherence of the single market and all that but be careful, because actually it's a great deal for them.
″... I think there's people on my side of the argument who think 'oh well Brussels will never wear it' but I fear Brussels may go for it."
He also defended the controversial comments he made in a Telegraph column when he compared woman wearing Burkha to letterboxes and bank robbers.
He blamed the uproar on "confected indignation" because of his strong views on Brexit.
He said: "As I say I stand by what I wrote. I urge my friends and colleagues to look carefully at what I wrote.
"I think you'll find invariably that there is an element of confected indignation about things that I've said that are wrenched out of context and in this particular context, I think ... what is going on is that people do feel a slight sense of uneasiness about the direction, more than a slight sense of uneasiness, real alarm about the direction of the Brexit negotiations, and they are conscious that I have a strong view about that and I think they are perhaps reacting to that as much as to anything else."
He later defended his articles, urging people to go back and read what he had actually written.
He said: "I don't think in the course of 4,600 shimmering words in the Daily Telegraph I don't think I've said anything that has caused offence and I hope it will cause people to reflect on the way that we're going."
Referring to May's plan, he added: "It's not right for this country – there is a better way forward, and the better way forward is to go with a Super Canada deal that would be fantastic for this country, that in my view would set us on the course of prosperity for a very long time."
Earlier the Department for Exiting the European Union issued a defiant statement rejecting what Johnson had written, saying it was "not a workable or negotiable plan".
Foreign minister Alan Duncan didn't hold back from criticising his former boss following the Telegraph article, saying that the foreign office had to "invest an enormous amount of time handling" Johnson.
He told the Times: "His supposed solution is neither workable nor on offer. If he thinks he can go into the conference and undermine [Mrs May] I think he's kidding himself. I think the party will be for her and not for him.
"He thinks he can be Britain's Trump. It ain't gonna fly. We don't buy those sorts of phenomenon. He had enormous electoral appeal but sadly he's spent it."
Source: huffingtonpost