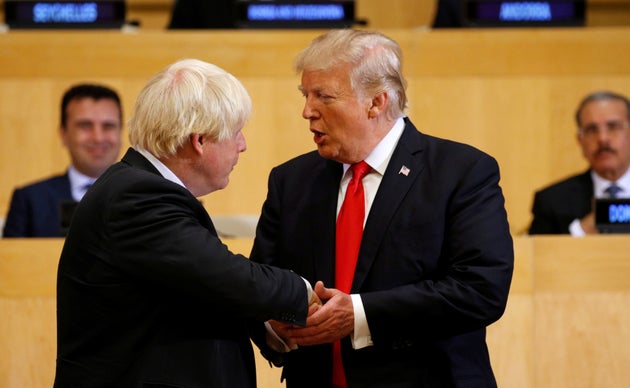 Boris Johnson has sung the praises of Donald Trump, suggesting the US President would "get somewhere" if handling Brexit as there's a "method in his madness".
In what will be seen as a swipe at Theresa May, the Foreign Secretary told a private meeting of Tory activists that Trump would cause "all sorts of chaos" in talks with Brussels, according to BuzzFeed News.
He also admitted there's likely to be a "meltdown" in talks with the EU as discussions get increasingly fraught.
The comments represent a marked softening of tone from the Tory politician, having previously said he would avoid New York in case he bumped in to Trump. He said:
"I am increasingly admiring of Donald Trump. I have become more and more convinced that there is method in his madness.

"Imagine Trump doing Brexit. He'd go in bloody hard. There'd be all sorts of breakdowns, all sorts of chaos.

"Everyone would think he'd gone mad. But actually you might get somewhere. It's a very, very good thought."
Johnson has been one of the strongest government proponents of a 'hard' Brexit, but admitted that Brexiteers could be left disappointed by the final deal Britain strikes with the EU.
He also said of Theresa May being "more combative with Brussels": "You've got to face the fact there may now be a meltdown. OK?
"I don't want anybody to panic during the meltdown. No panic. Pro bono publico, no bloody panic. It's going to be all right in the end."
A source close to Johnson said: "This was a private dinner under Chatham House rules so it is sad and very disappointing that it has been covertly recorded and distributed to the media."
Source: huffingtonpost