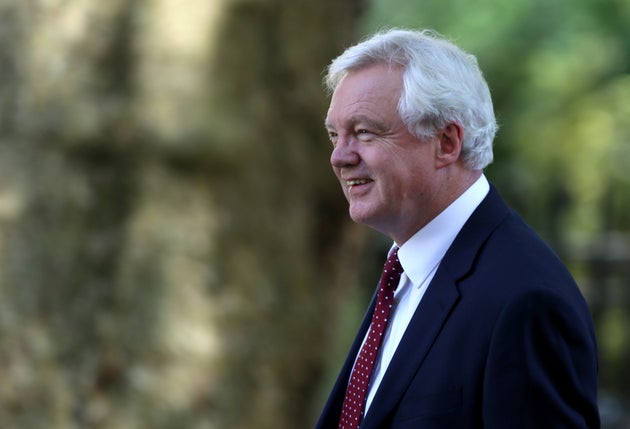 Brexit Secretary David Davis has dramatically quit the Government in a huge blow for the Prime Minister.
Two senior sources confirmed Davis' departure from the Cabinet in a bombshell move late on Sunday night.
During a crunch meeting at her country retreat on Friday, the Prime Minister was said to have secured the backing of her Cabinet to negotiate a softer version of Brexit with the EU.
But May now appears to have lost her key negotiator just a day after the plan was agreed to.
As the PM contends with a backbench rebellion over her approach, reports have also emerged that Jacob Rees-Mogg, chair of the Eurosceptic group of backbenchers, the European Research Group, has said he would vote down an EU deal based on the Chequers plan.
His exit may embolden Brexiteer backbenchers who are concerned about May's leadership.
The move comes on the eve of a major test for the Prime Minister as she faces first the House of Commons and then a potentially stormy meeting of Tory MPs and peers on Monday.
May is expected to tell MPs that the strategy agreed on at Chequers is the "right Brexit" for Britain.
Ian Lavery MP, Chair of the Labour Party, commenting on David Davis' resignation, said: "This is absolute chaos and Theresa May has no authority left.
"The Prime Minister is in office but not in power. She cannot deliver Brexit and our country is at a complete standstill, while the Tories indulge in their leadership tussling. "We can't go on like this. Britain needs a functioning Government."
Brexiteer Tory MP Peter Bone supported David Davis' decision to quit just days after crunch talks at the Prime Minister's Chequers summit.
"David Davis has done the right thing, a principled and brave decision," he said.
"The PM's proposals for a Brexit in name only are not acceptable."
This is a breaking news story and will be updated. Check back for the fullest version. Follow HuffPost UK on Twitter here, and on Facebook here.
Source: huffingtonpost