Mary Berry takes up her first post-'Great British Bake Off' judging role as Head Judge on 'Britain's Best Home Cook'.
The show has been touted as the BBC's answer to 'Bake Off', having lost the rights to Channel 4 last year.
Haute cuisine chef Dan Doherty and former market trader turned TV presenter Chris Bavin join her on the judging panel.
Claudia Winkleman serves as presenter, bringing her usual wit and capers to proceedings.
The competition sees 10 British home cooks competing each week in two challenges.
The first challenge is the 'Ultimate' round were contestants have to cook anything from their ultimate burger or their ultimate chocolate puddings.
The second is the 'Cooks Challenge' where the winning contestant from round one gets to pick one key ingredient which all 10 must then invent a dish around.
The judges then pick a number of cooks who are safe, and the remaining ones must compete in the elimination round, where one will eventually be sent home.
The contestants all live together in an 'Apprentice'-style mansion, and are also allowed to personalise their work stations on set to make it feel like home.
S N A P V E R D I C T

With shows like 'The Big Family Cooking Showdown', 'Masterchef', 'Bake Off' and their professional equivalents, it could be argued there wasn't much of an appetite for another new cookery competition. But having lost 'Bake Off' to Channel 4 last year, the BBC has remained determined to fill the hole it left in their schedule, with their latest offering coming in the form of 'Britain's Best Home Cook'.

The show immediately draws obvious comparisons to the beloved baking series - not only because the first queen of the tent Mary Berry is heading up the trio of judges while contestants compete in three different challenges in a cutesy kitchen setting (sound familiar?) - but because it is a series with kindness very much at its core.

One major twist on the tried-and-tested cookery competition format is that the contestants all live in an 'Apprentice'-style house together away from their friends and family during filming. But rather than this setting them at odds with one another, it has already bonded them as a group, and their warmth of friendship really comes across on screen. Benjamina and Selasi have got nothing on this lot.

To ensure the challenges are also not too similar to 'Bake Off', bosses have made the third and final stage an elimination round, where only half of the cooks battle it out to stay in the competition. While this certainly adds an extra element of jeopardy, the sight of the 'safe' contestants cheering the others on and willing them to do well, warms the cockles.

Meanwhile, newcomers Dan Doherty and Chris Bavin seem to be inspired choices as judges given their breadth of experience, and no doubt they will also be setting temperatures soaring outside of the kitchen too.

Their chemistry with Mary already has us sold, and it seems they're going to bring out even more of the cheeky side that viewers fell in love with when she was paired with Paul Hollywood.

Claudia, meanwhile, is a reliable and brilliant pair of hands to hold the whole show together, as not only do her one-liners serve up plenty of hilarity, but you can tell she is genuinely invested in the contestants - just as she is on 'Strictly'.

The proof of the pudding with 'Britain's Best Home Cook' will be the viewers' reaction to it, and whether they can see it as more than 'a new Bake Off'. All we know is that after just one week, we're already asking for a second helping.
O N E T O W A T C H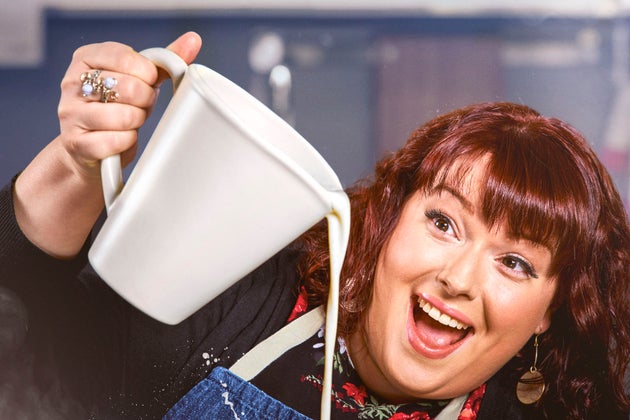 We're not afraid to say that we've already developed a soft spot for Katie, and having seen a sneak peek at episode two, we'll certainly be keeping an eye on her.
Source: huffingtonpost