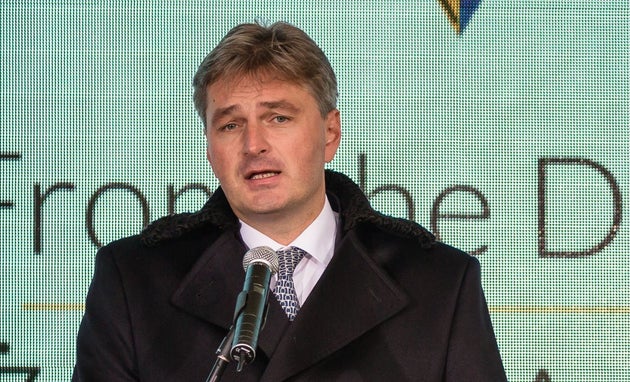 A Brexit-backing Tory MP has hung up on a radio host after it was pointed out that a claim he made in a tweet this weekend was wildly inaccurate.
Daniel Kawczynski, MP for Shrewsbury, said on Saturday that during World War II Britain had "mortgaged herself up to the eyeballs" yet had since paid in millions to an "ungrateful EU".
He also said there was "no Marshall Plan for us, only for Germany", a claim that is more than a little bit wide of the mark.
The Marshall Plan was an American financial initiative to rebuild western Europe after devastation of the war.
Britain was the biggest beneficiary, receiving around a quarter of what in modern terms, amounted to around $100 billion.
Speaking to Talk Radio's Alexis Conran on Sunday, Kawczynski said he stood by the tweet despite its inaccuracy.
Conran said: "I need to figure out whether you are someone who can be trusted as giving answers and the truth is Mr Kawczynski, is that you have got this completely wrong and it has been pointed out to on Twitter by many, many people."
He then asked the MP to look up the Marshall Plan to check the figures.
Kawczynski said: "I have been asked here to talk about Article 50, if you want to speak about Article 50 then fine, if you don't then we'll call it a day."
Conran said: "What does that say about you Mr Kawczynski, is someone is pointing out an inconsistency in your tweet?"
Kawczynski then hung up.
At the time of writing, Kawczynski's inaccurate tweet is still online – and so are the replies.
Kawczynski made headlines just last month when he revealed he has asked the Polish government to intervene if Britain asks the EU for an extension of Article 50.
He made the announcement in a tweet, claiming he was trying to thwart "attempts by Remainer MPs to delay or obstruct Brexit".
The move was swiftly condemned as commentators highlighted the hypocrisy of someone campaigning for more sovereignty actively seeking another government to interfere in the UK's affairs.
Labour MP Virendra Sharma of the Best for Britain campaign, said in a statement: "It appears that Kawczynski has today appointed himself as roving Ambassador to Poland. I am sure Warsaw has been waiting for his letter with bated breath.
"I don't envy Daniel's burden of self-awareness. Taking back control by asking a foreign government to veto a request made by the sovereign British Parliament is an interesting move."
Source: huffingtonpost