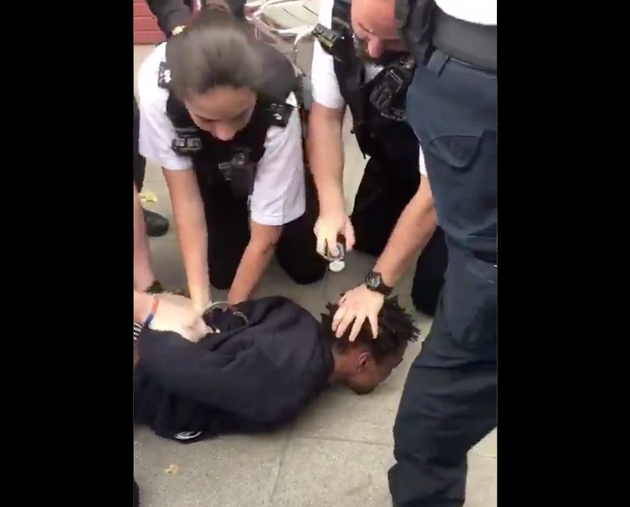 Labour David Lammy MP has called for an investigation by the police watchdog after a man was restrained by six officers and CS sprayed.
The incident, which has been referred to the Met's Directorate of Professional Standards, was captured by a bystander in a video circulating on Twitter. It shows the man being held down on the ground by police, who confirmed they were called to Brent, north London, at 3.07pm on Thursday, October 4.
Police later confirmed that Kamar Hewitt, 23, has charged with possession of cannabis, obstructing a drugs search and two counts of assault on police.
He appeared in court on 5 October and was bailed to appear at Harrow Crown Court on 2 November.
The footage of the arrest, Tweeted by the Streatham Ethnic Minorities forum, shows officers restraining the man.
The video contains strong language and tense scenes which might be distressing to watch.
The video prompted comments from campaigners about the police officers' approach, as well as concern about the fact the detainee complained that he "couldn't breathe".
Tottenham MP Lammy tweeted that he intends to write to the Met Commissioner about the matter.
"I've received complaints today about this video which appears to show gratuitous force used against a man found with a spliff," the politician said. "I will be writing to the Met Commissioner and expect @IOPC_Help to investigate."
The Met also confirmed CS spray was used. According to police guidelines, it is administered by officers when they feel that the suspect in question poses a risk to themselves, other police officers, or others in the vicinity.
The man was originally arrested on suspicion of possession of cannabis, obstructing a drugs search, two counts of assault on police and on suspicion of GBH.
He was taken to a west London police station. He has since been eliminated as a suspect for the GBH offence and has been de-arrested for that offence.
A Met Police spokesperson told HuffPost UK: "Due to the nature of the offence the male was suspected to be involved in, a number of officers worked to detain the male and approved techniques were used to place him in handcuffs.
"One uniformed officer who dealt with this incident required basic first aid for minor injuries after attending officers had bottles thrown at them by a crowd which gathered as they worked to subdue the suspect.
"No further arrests have been made. All officers used Body Worn Video throughout the course of their interaction with the suspect."
When asked what led the police to suspect that the man had committed GBH, the police spokesperson declined to comment but told HuffPost UK: "Police officers have a responsibility to act on available information to identify potential suspects."
Source: huffingtonpost