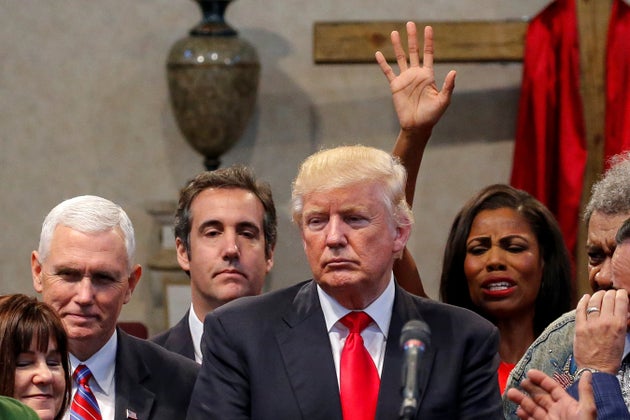 Donald Trump will have awoken on Saturday morning to a storm of headlines alleging he is a "racist" and tapes exist of him repeatedly using "the N-word".
The claims have been made by former White House aide Omarosa Manigault Newmam in her forthcoming book Unhinged, an advanced copy of which has been obtained by The Guardian.
She alleges that, during the making of US version of The Apprentice, which Trump fronted for several years, the future president muttered the racial slur "multiple times".
Whilst not addressing the allegations directly, on Saturday morning the President posted a series tweets addressing all his favourite subjects with an emphasis on his attitude towards racism.
He began with the FBI, continuing his attempt to discredit the agency as the Special Counsel investigation continues to collect evidence in the ongoing Russia investigation.
Trump said the law enforcement agency's "great men snd women" had been hurt by "clowns and losers".
The President then took what so far has been his only acknowledgement of the one-year anniversary of the deadly white nationalist rally in Charlottesville, Virginia.
Trump's tweet rings hollow in light of his response last year when he equated white supremacists with counter-protesters, saying "both sides" were to blame.
White nationalists held a "Unite the Right" rally in Charlottesville last year, billing it as a protest over the removal of a statue honouring a commander of the Confederate Army, the losing side in the US Civil War.
Counter-protesters turned out to demonstrate against the rally. James Alex Fields, Jr. is charged with driving his car into a group of counter-protesters, killing 32-year-old Heather Heyer and injuring dozens of people.
He has pleaded not guilty and his trial is set to begin in November, reports Reuters.
Trump then moved onto another familiar Twitter theme, the economy, highlighting "the LOWEST African American and Hispanic unemployment rates in history".
Reports have been circulating for years that outtakes from the reality television show exist in which Trump can be heard saying the N-word.
Manigault Newman does not specify in her book, which is due to be released on Tuesday, whether she heard Trump using the slur or whether she saw footage of him using it.
She claims she also personally witnessed Trump using racial epithets when referencing his aide Kellyanne Conway's husband George, who is half-Filipino.
"It had finally sunk in that the person I'd thought I'd known so well for so long was actually a racist," she wrote, according to The Guardian.
"Using the N-word was not just the way he talks but, more disturbing, it was how he thought of me and African Americans as a whole."
In the book, Manigault Newman, who was a contestant on Mr Trump's The Apprentice reality show and later served as a senior adviser to the president, hurls a litany of allegations, painting the president as scattered, self-absorbed, misogynistic and insecure.
She also claims she saw him behaving "like a dog off the leash" at numerous events he attended without his wife, First Lady Melania Trump.
The accusations are among a long list of scandalous claims contained in her new book Unhinged, set to come out on August 14.
The White House has already slammed the book as "riddled with lies and false accusations".
Source: huffingtonpost