Donald Trump has said that the US military should treat rocks thrown by asylum-seeking migrants heading to the US-Mexico border as firearms in his latest bout of pre-election rhetoric.
The US President has already attacked undocumented immigrants ahead of next week's mid-terms by announcing plans to send at least 5,200 active-duty troops ― and possibly as many as 15,000 ― to the southern border to address migrant caravans, which are currently 900 miles away.
He has also threatened to indefinitely detain asylum-seekers in "tent cities" and floated the idea of ending birthright citizenship by executive order.
In his latest statement, he told the armed troops deployed to the border that they could open fire if migrants throw rocks at them - something Border Patrol agents have done in the past.
He said: "We're not going to put up with that. If they want to throw rocks at our military, our military fights back. We're going to consider it. I told them, consider it a rifle. When they throw rocks like they did at the Mexico military and police, I say consider it a rifle."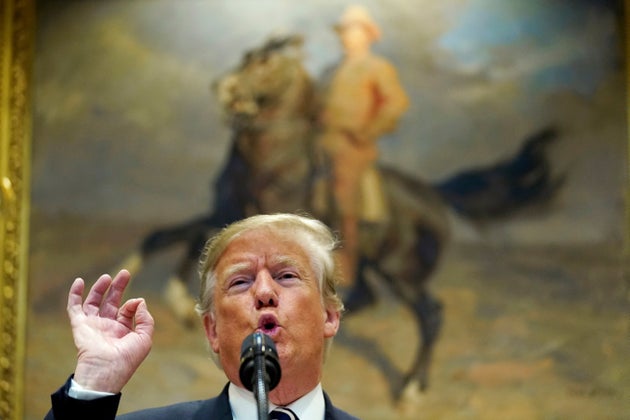 He said that his administration is finalising a plan to deny asylum to migrants who cross into the US illegally, a move that would be sure to draw legal challenges should it come to fruition.
He said that he would issue an executive order "sometime next week" that would be "quite comprehensive", adding that the plan would shut down access to asylum for people who seek safety in the United States unless they go to legal ports of entry.
By law, immigrants can seek asylum either at ports of entry or once in the US - even if they crossed illegally.
Trump insisted his plan to restrict asylum would be "totally legal". He repeated his vow to indefinitely lock up asylum-seekers while they pursue immigration claims, and claimed that "almost everybody" is abusing the system rather than pursuing legitimate efforts.
"We have a lot of tents," Trump said. "We have a lot of everything. We're holding them right there. We're not letting them into our country."
Immigrant rights groups are expected to challenge any limits placed on access to asylum.
Trump and administration officials argued the moves are a necessary response to a migrant caravan slowly making its way to the U.S-Mexico border from Honduras.
The caravan, once estimated at more than 7,000 people, is now down to about 3,500 asylum-seekers and other migrants and is still hundreds of miles from the border. A second caravan of about 3,000 migrants is also traveling to the US, followed by at least two smaller groups.
Trump repeatedly blamed Democrats and the courts for the caravan and other unauthorised immigration.
Trump's actions and statements come days after a shooting at a Pittsburgh synagogue that left 11 people dead.
Source: huffingtonpost