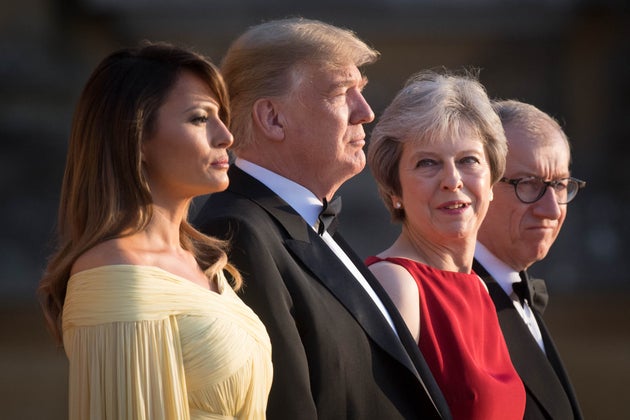 Donald Trump has warned Theresa May's Brexit plan will "kill" any future US trade deal in bombshell comments as the President met the PM in the UK.
Soon after Trump arrived at Blenheim Palace in Oxfordshire for a gala black tie dinner, The Sun published an interview with the US President that is likely to humiliate his host.
He told the newspaper that Britain remaining so closely aligned to the European Union would undermine a UK-US trade deal.
Trump also said he would have done the Brexit negotiations "much differently" and claimed the Prime Minister did not listen to his advice.
His highly-controversial remarks came at the end of a day in which he had already waded deeply into the Brexit row over May's white paper.
He had used a Thursday morning press conference in Brussels to attack the Prime Minister's Brexit plan and highlight Cabinet divisions.
The president told The Sun: "If they do a deal like that, we would be dealing with the European Union instead of dealing with the UK, so it will probably kill the deal".
The comments, following on from the morning press conference, will be a cause of great concern for May.
She had used the Blenheim black tie dinner with political and business leaders to press Trump on the benefits of a free trade deal after Brexit.
Addressing the 100-strong group the Prime Minister said there was an "unprecedented" opportunity to do a deal that boosted jobs and growth in both countries.
As the interview began to make waves, Trade Secretary Liam Fox tweeted from the Blenheim Palace event about how Trump had talked "so positively about UK and US trade".
Speaking to reporters in Belgium after a fiery Nato Summit, Trump had described the UK as a "hot spot right now with a lot of resignations" and dismissed the Prime Minister's Chequers plan on the next stage of Brexit.
"I would say Brexit is Brexit," he told reporters.
"The people voted to break it up so I would imagine that's what they would do, but maybe they're taking a different route, I don't know if that is what they voted for."
He added that it seemed as if the UK was "getting at least partially involved back with the European Union".
"I'd like to see them be able to work it out so it could go quickly," he said.
It comes just days after Trump declined to say whether May should remain in post, said he had "always liked" Boris Johnson, who quit as foreign secretary over the Chequers agreement, and described the UK as being in "turmoil".
The Trumps landed in Air Force One at Stansted Airport at lunchtime on Thursday to kick-start a four-day working visit to Britain as protests against his trip began.
Source: huffingtonpost