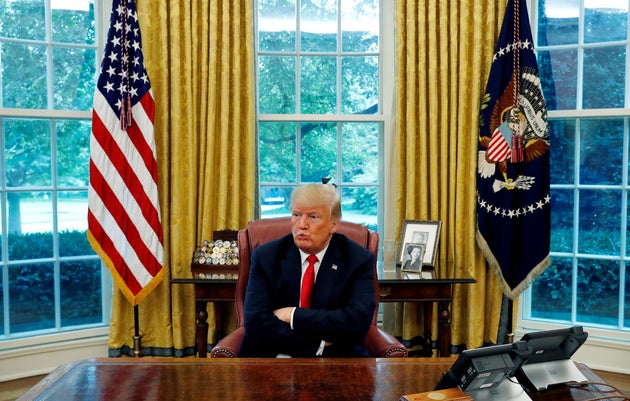 For a President famous for demanding loyalty from those around him, this last week must have been particularly painful as three men intimately familiar with his inner-most dealings turned on him.
Former personal lawyer, Michael Cohen, Chief Financial Officer of the Trump Organization, Allen Weisselberg, and longtime friend and CEO of AMI, David Pecker, are now all cooperating with prosecutors.
Those familiar with Donald Trump's thinking say the last few days will have come as a huge shock as the investigations that have long dogged his administration get ever-closer to the personal territory he once declared off-limits.
Trump biographer, Michael D'Antonio, told AP: "He's less powerful in these relationships now than he was before he became president. That must just amaze him.
"He's sitting behind the Resolute Desk and he can push a button and get a Coke but he can't control Michael Cohen."
Each of the three men represents a particular threat to the President reflecting their differing positions and relationships with Trump and allies wonder what he might do if the pressure continues to increase.
"This is a bridge too far. They are trying to undo this President," said former Trump campaign aide Sam Nunberg.
These are the three men and how each could "undo" President Donald Trump..
NAME: Michael Cohen
AGE: 52
POSITION: Donald Trump's Former Personal Lawyer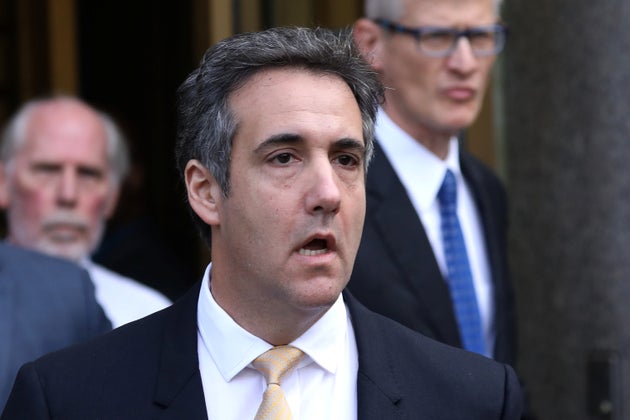 What He Did This Week
Cohen this week pleaded guilty to campaign finance violations, alleging the President himself had directed him to pay hush money to two women with whom he'd had affairs.
Since the verdicts his lawyer has said he will be cooperating full with investigators in another case that is examining whether or not the Trump Foundation, the umbrella organisation that covers the 500 or so business entities owned by the President, broke state law or lied about its tax liability.
Why This Matters
The probe into Cohen was triggered in part by a referral from special counsel Robert Mueller, who separately is looking into possible Russian interference in the 2016 US presidential election.
On Wednesday Cohen's lawyer, Lanny Davis, told MSNBC his client has information "that would be of interest" to the special counsel.
He continued that this information was regarding "knowledge of a conspiracy to corrupt American democracy by the Russians and the failure to report that knowledge to the FBI."
NAME: David Pecker
AGE: 65
POSITION: CEO of American Media Inc., Publisher Of The National Enquirer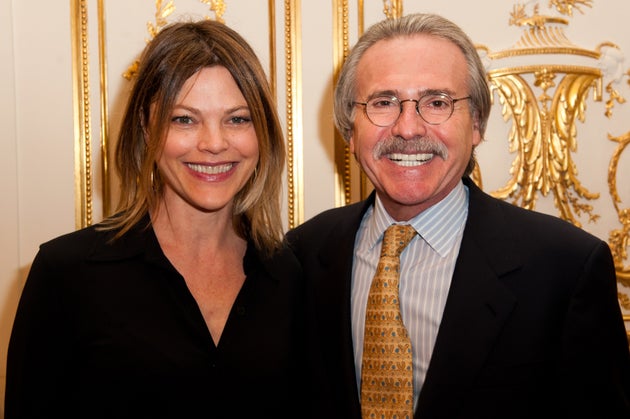 What He Did This Week
David Pecker has been granted immunity by prosecutors in the ongoing Michael Cohen probe mentioned above.
Why This Matters
Jerry George, a former senior editor at AMI, spoke to HuffPost this week and said the relationship between Trump and Pecker was one in which the latter used "catch and kill" contracts in order to keep negative stories about Trump out of the public.
When asked how many stories were quashed in this manner, George said: "I would say 10. And hundreds of story leads that were never approved, that would come in and we just wouldn't explore".
So far two of these "catch and kill" contracts are known about - the payment of hush money to former Playboy model Karen McDougal who is alleged to have had an affair with Trump.
The other is a former Trump employee prohibited him from speaking about his knowledge of an alleged affair between Trump and his housekeeper that resulted in a child.
But if George is correct, there could be another eight such stories.
NAME: Allen Weisselberg
AGE: 71
POSITION: Chief Financial Officer Of The Trump Organization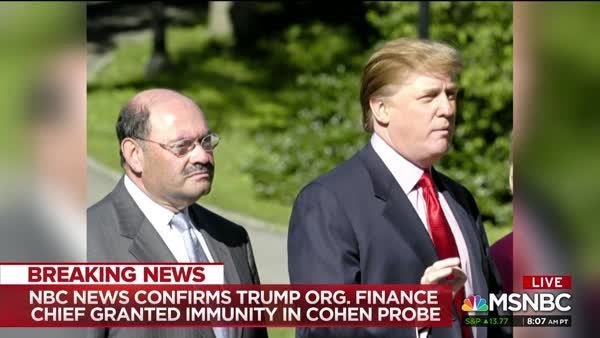 What He Did This Week
Like Pecker, Weisselberg was granted immunity by prosecutors in the ongoing Michael Cohen probe.
Why This Matters
A cooperation deal between Weisselberg and prosecutors could be hugely damaging to Trump given the executive's longtime role in Trump's business affairs.
He has worked for the Trump family for more than four decades, including as treasurer for the Donald J. Trump Foundation.
He is one of three executives of the Trump Organization. The other two executives are the President's elder sons Donald Trump Jr. and Eric Trump.
Adding to Trump's woes, if evidence of alleged crimes is found, state Attorney General Barbara Underwood could force Trump to release his tax returns, something he has long-resisted.
What This All Means For Trump
A year ago, Trump told The New York Times that Mueller would be crossing a "red line" if he began to look at Trump's and his family's finances unrelated to Russia.
Asked if he would fire Mueller if that were to happen, Trump responded, "I can't, I can't answer that question because I don't think it's going to happen."
As the negative news mounted throughout the past week, allies also expressed frustration with the lack of a coordinated pushback effort. The White House said it's up to Trump's outside lawyers to deal with much of the news. They argued that the president was not directly implicated, even though Cohen said in court that he and Trump had coordinated.
Some also questioned just how Trump would react if the bad news continued to roll in. Nunberg specifically cautioned against his making any speedy moves.
"The only thing I would say to the president is do not do anything rash because Mueller would love for you to fire him, so that you will be impeached," he said.
Source: huffingtonpost