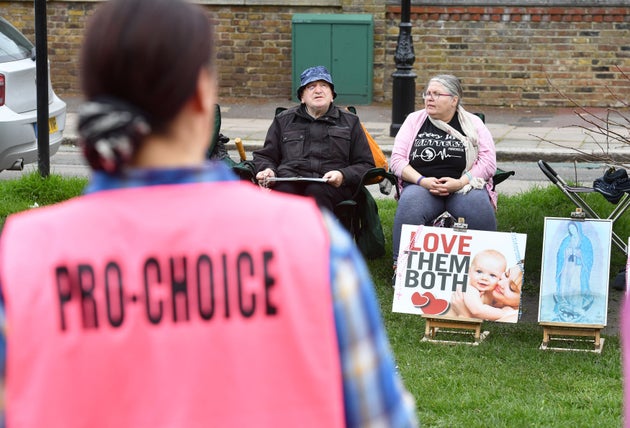 Ealing Council has "made history" by banning pro-life protesters from approaching women entering an abortion clinic.
Cabinet members approved the landmark decision on Tuesday evening as opposing campaign groups gathered outside the west London borough's town hall.
The Public Spaces Protection Order will create a "safe zone" - the first of its kind in the country - around the Marie Stopes clinic on Mattock Lane, preventing protesters from harassing women or persuading them to take leaflets.
Council leader Julian Bell said repeated attempts had been made to reach a compromise with the main pro-life group, called Be Here For Me, but members had refused to stop operating directly outside the clinic entrance, or using graphic images of foetuses in their campaign materials.
The council received more than 2,000 submissions to an online consultation from local residents, businesses, healthcare providers, religious groups and clinic staff.
They also received statements from women who had had abortions and said they felt "threatened and intimidated" by the experience, with one reporting recurring nightmares about being chased by pro-life lobbyists.
Cllr Bell said there was significant evidence that the presence of protesters was having a "detrimental effect" on women attempting to access abortion services and that they had "over-stepped the mark" into intimidation and harassment on repeated occasions.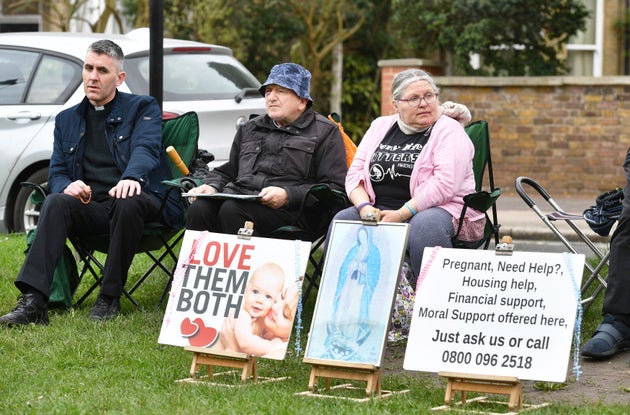 Cllr Bindi Rai, cabinet member for children and young people, said the implementation of the order was a "necessary and proportionate step" and called on home secretary Amber Rudd to beef up legislation to prevent harassment outside clinics across the country.
Ealing pro-choice campaign group Sister Supporter collected more than 3,000 signatures in support of the safe zone and said they were "delighted" with the result.
Before the meeting, members wearing pink high-vis vests chanted: "What do we want? Safe zone. When do we want it? Now" and "Get your rosaries off our ovaries" outside the council building.
Cars hooted and passers-by shouted out "Well done ladies" in support of those campaigning for the safe zone.
The anti-abortion campaigners, which included several children, stood quietly and sang hymns including Amazing Grace - though one man stormed out of the meeting, stating he "objected to Labour's support for abortion".
Some of their signs read: "Don't criminalise help" and "No censorship zones".
They said they were simply trying to offer help and support to women and did not engage in harassment, but cabinet members deemed there to be too much evidence to the contrary.
Cllr Bell said the order would be implemented within five days, providing no objections were raised by other councillors.
Those found to be in breach of it will face legal action.
Katherine O'Brien, spokesperson for the British Pregnancy Advisory Service, said the organisation welcomed the decision.
"The protests in Ealing are sadly not isolated incidents," she added.
"On a daily basis, women across the country are being confronted by increasingly aggressive groups of protesters as they try to access safe, legal healthcare.
"This isn't about the rights and wrongs of abortion - this is about the harassment of women. The government has a duty to provide all women with the same level of protection that will now be offered in Ealing, and must bring forward legislation to implement buffer zones nationally."
Source: huffingtonpost