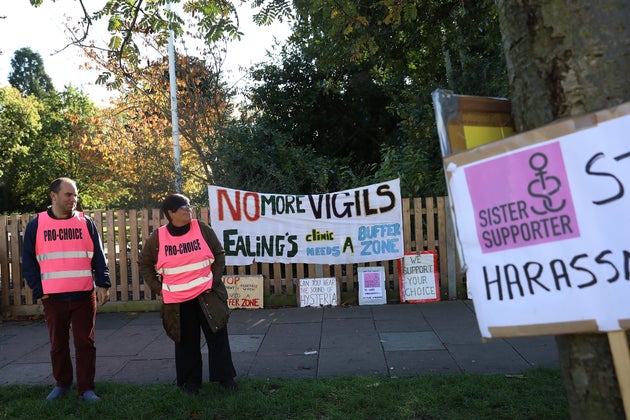 As the MP for Ealing Central and Acton, I've been campaigning for a long time to move the protesters away from the Marie Stopes clinic on Mattock Lane. On Tuesday night, the campaign paid off – the Council voted to introduce a Public Spaces Protection Order, a Safe Zone to disperse protesters away from the clinic gates. It's a huge step forward.
When I found out about the vote, I was serving on a Parliamentary delegation with the Liberal Democrat Lord David Steel – the sponsor of the original Abortion Act 1967 which legalised terminations in the UK. After the vote, he commented, "this is very good news indeed."
I don't agree with lots that the Lib Dems have done, their support of the coalition government being the most damaging, but I have enormous respect for Lord Steel who was not a part of that episode. His Private Member's Bill 51 years ago has improved society for the better by saving women from the dangerous DIY backstreet methods of terminations that took place up until then. Ealing's decision is not about the length of time or number of weeks to set limits or any of that but rather keeping women safe who have decided to go through with that process.
Lord Steel is no stranger to criticism for his role in this essential legislation. He recently spoke in a Lords debate of how he still received hate mail quoting one such example that accused him of bringing about "the senseless deaths of more than 8,000,000 unborn babies. Abortion is truly the holocaust of our time".
It's a form of criticism I'm also used to. My office has received plastic foetus dolls in the post for speaking out on the issue, and I myself have been called a murderer. As disappointing as this is, it is nothing compared to the distress, harassment, and intimidation the women accessing appointments have had to withstand for more than 20 years.
That's why Ealing's decision is pioneering, but it's not the end of the campaign to stop these types of protest. In October last year, I organised a letter to the Home Office signed by 113 MPs from Jeremy Corbyn to Zac Goldsmith that told Amber Rudd the Government must act to stop this harassment. 42 clinics and hospitals in the UK have experienced protests in the last year. This is not just an issue in Ealing – it's a national problem in need of a national solution.
Lord Steel told me yesterday "It is important that we do not go down the same road as America", referring to the violence that women and staff face when trying to access essential care. He's right. And the British public agree. A YouGov poll published yesterday showed 69% of people agree that protests shouldn't be allowed immediately outside clinics – with only 12% disagreeing.
The time to act is now. That's why I'm looking forward to the publication of the Home Office review into these protests, and why women across the country are too.
Source: huffingtonpost