The Labour Party must expel anti-Semites in the same way the infamous fascist Oswald Moseley was kicked out of Liverpool, Emily Thornberry has insisted.
In an impassioned and wide-ranging conference speech, the shadow foreign secretary told delegates that if Labour wants to tackle fascism, racism and hatred, it "must start with rooting it out of our own party".
"We all support the Palestinian cause, we are all committed to recognise the Palestinian State when we get into government. And I stand here with no hesitation when I condemn the Netanyahu government for its racist policies and its criminal actions against the Palestinian people," she told the packed conference hall, adding that she never thought she would have to call for a crackdown on hate within the Labour Party.
"But I know as well and we must all acknowledge that there are sickening individuals on the fringes of our movement, who use our legitimate support for Palestine as a cloak and a cover for their despicable hatred of Jewish people, and their desire to see Israel destroyed."
Thornberry - whose speech was watched over by Jeremy Corbyn - continued: "Those people stand for everything that we have always stood against and they must be kicked out of our party in the same way that we kicked Oswald Mosley out of Liverpool."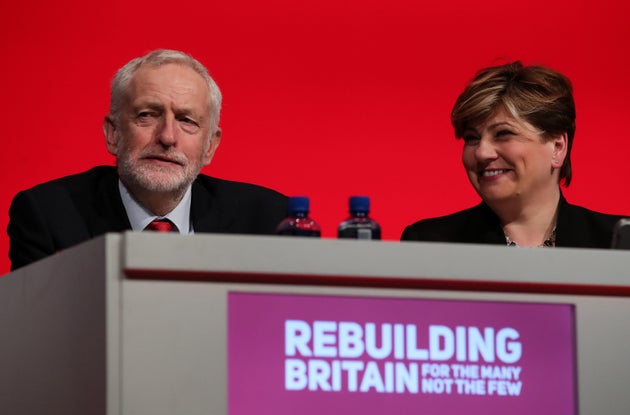 Her declaration follows an anti-Semitism row within the party after Labour initially failed to fully adopt the International Holocaust Remembrance Alliance (IHRA) definition of anti-Semitism.
In a speech in Liverpool on Tuesday night, visiting Israeli MP Ayelet Nahmias-Verbin criticised the Labour Party's "failure" to tackle anti-Semitism, calling it "deeply disturbing".
"I ask you Mr Corbyn - what kind of leadership have you shown to root this out?" Nahmias-Verbin said. "When arguing as to the extent of the IHRA definition, you are indicating that anti-Semitism is okay."
Thornberry also called on Labour Party members to unite within their ranks and end the "pointless conflicts which divide our movement, which poison our online debate, and distract us from out job, which is fighting the Tories".
Concluding her speech with a reference to the left-wing anthem 'The Internationale', the Islington South and Finsbury MP said the party has the potential to show "that the greatest achievements of our socialist movement lie not in our past, but in our future".
"That is the kind of government we need for our country and that is the kind of Britain we need for our world," Thornberry added.
Source: huffingtonpost