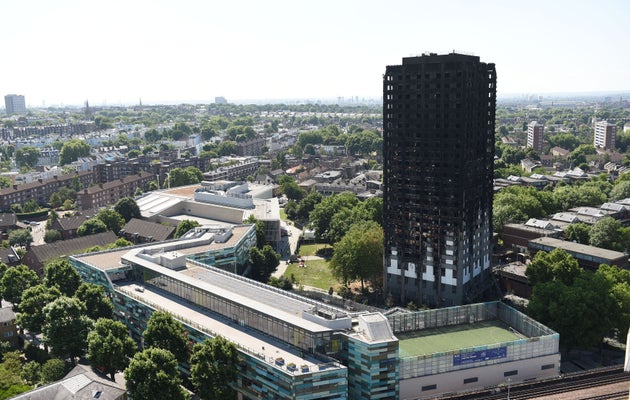 Fire doors made by five different companies have been withdrawn from the market after failing fire safety tests carried out in the aftermath of the Grenfell blaze, the Government has said.
The move could mean thousands of doors are removed from public housing across the country after the Ministry of Housing, Communities and Local Government began investigating.
In June, a HuffPost UK investigation revealed councils were in the process of replacing tens of thousands of faulty fire doors amid fears the Grenfell fire had exposed "decades of neglect".
While much of the focus since the blaze has been on cladding, the Grenfell Inquiry has revealed the spread of the fire was partly due to more than 100 fire doors which did not meet building regulations.
Communities Secretary James Brokenshire has instructed major fire door suppliers to meet this week and agree a clear plan of action to tackle the failings which have been identified.
A spokesperson for the Ministry of Housing could not say how many public buildings had the suspect doors fitted, saying it was up to the manufacturers to provide details of their products.
"We are advising owners of buildings where affected doors have been installed to review their building fire risk assessments, and consider how quickly these doors should be replaced," a spokesperson told HuffPost UK.
The Ministry had previously found that a fire door from Grenfell Tower manufactured by Manse Masterdor failed a 30-minute fire resistance test after around 15 minutes.
Issues were subsequently identified with doors produced by Masterdor Limited, the successor business to Manse Masterdor and now problems have been identified with products from another three manufacturers.
Products which have failed government tests to date were glazed and unglazed doors supplied by Manse Masterdor and Masterdor Limited and glazed composite doors supplied by Specialist Building Products Limited, trading as Permadoor; Solar Windows Limited; and Birtley Group Limited, trading as Bowater by Birtley.
The companies represent some of the main suppliers in the market.
HuffPost UK's investigation found around 1,200 Manse doors had been identified in Barnet and 280 in Barking and Dagenham.
Both councils in those areas were awaiting Whitehall guidance before deciding how to act.
Lambeth said 84 doors used in a 2014 refurbishment programme of council housing did not meet required standards, and that they will be replaced by October.
Hackney had identified 90 Manse doors and says that it is replacing them for "residents' peace of mind".
"I now have enough evidence to suggest that there is a broader issue across the fire door market," said Brokenshire, who has also asked National Trading Standards to oversee local investigations which are taking place.
"That is why I am calling on suppliers to meet this week and provide reassurance that they are gripping this issue properly. I want to see a clear plan of action to rectify existing problems and ensure such failures are not repeated in the future.
"Whilst our expert panel assures me the risk remains low I want to assure the public that the government is doing everything it can to ensure construction products are of the highest safety standards and accurately tested and marketed."
Source: huffingtonpost