Firefighters have captured the moment a "firenado" - a fire tornado resembling a twister - engulfed a plastics factory in Derbyshire.
The cyclonic vista was created by a combination of turbulent air and intense heat, and was tackled by officers from services in Derbyshire, Leicestershire and Staffordshire.
Firefighters began on the blaze at Ravensbourn Plastics from about 1.20am on Tuesday and were still damping down the fire by the afternoon.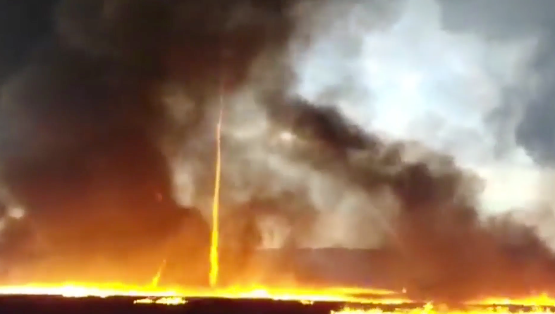 The fire involved stacked plastic pallets, which were ordinarily used for making plastic crates for supermarkets.
Firefighters have now released footage of the blaze and the mesmerising firenado, which reached a height of over 50ft.
"You might have seen this video from Ashby Fire and Rescure of a fire whirl captured at an incident in Swadlincote on Monday," Leicestershire Fire Service said on Wednesday.
"This sight is caused by intense heat rising from the ground, and turbulent wind conditions, and is so rare, our Chief has never witnessed one, 32 years on!"
Another video was posted on Facebook.
No injuries were reported but a huge black smoke cloud seen as far as Shepshed in Leicestershire and Nottingham City Centre.
Derbyshire Police have said an investigation into the cause of the fire is under way and are appealing for anyone with information to come forward.
Source: huffingtonpost