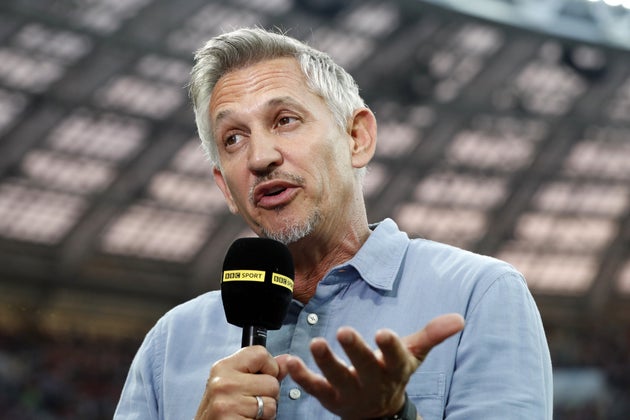 Footballer-turned-broadcaster Gary Lineker has backed a campaign pushing for a second referendum on Brexit.
The ex-England striker said Brexit "feels like it is going very wrong indeed" and wants another vote on the divorce deal struck between the UK and Brussels.
The 'Match Of The Day' host is joining the People's Vote group, which has launched a series of rallies and protests across the UK calling for a referendum on the final Brexit deal.
"Some things in life are more important than football," he said.
Despite being the BBC's highest earner, Lineker is thought to be free of BBC rules on political impartiality since he is a freelancer and holds a non-news role.
"I spent most of the last few weeks totally focused on a fantastic World Cup," the footballer said.
"But it was impossible to avoid what was happening in the Brexit debate back home.
"Now I'm back I find the whole thing more bewildering and worrying than ever.
"Whether you voted Leave or Remain, did anyone really vote for the mess we seem to be in, let alone the prospect of no deal with all the terrible consequences attached to that?
"There are some things in life that, even for someone like me, are more important than football. This is one of them. I am not a politician but I know when something is going wrong and right now Brexit feels like it is going very wrong indeed.
"The politicians seem unable to resolve the problem the people gave them in voting to Leave. That is why I think there should be a People's Vote on the final deal, and why I am sending best wishes and good luck to the campaigners who will be stepping up the pressure over the summer."
The campaign will hold rallies in cities including Bristol, Edinburgh, Newcastle, Cambridge, Cardiff, Liverpool and Birmingham over the next three months.
There will also be a series of national Action Days staged by People's Vote's 130 local volunteer groups.
Last year, Lineker said he felt "politically homeless" after Jeremy Corbyn's Labour backed a hard Brexit and he sacked shadow ministers who sought a soft one.
The ex-footballer was dismayed by Corbyn's decision to sack the frontbenchers who voted for a Chuka Umunna's amendment to the Queen's Speech that called for Britain to stay in the single market and customs union.
He tweeted: "Anyone else feel politically homeless? Everything seems far right or way left. Something sensibly centrist might appeal?"
The broadcaster recently topped the list of the BBC's highest earners, after the corporation published its latest salary report.
The 'Match Of The Day' host received between £1.75 million and £1.76m, roughly the same as the previous year.
Source: huffingtonpost