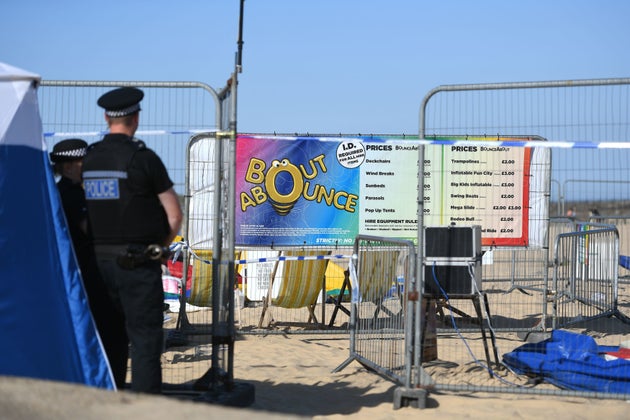 The three-year-old girl killed in an inflatable trampoline tragedy on a Norfolk beach has been named by police as Ava-May Littleboy.
The young girl was rushed to hospital after being thrown from the inflatable around 11am on Sunday at Gorleston beach, but later died in hospital.
Her family said: "She was not your ordinary little girl, as anyone she met, she would leave a lasting impression on.
"Anyone that met her would not want to forget her. Her infectious laugh and smile could light up even the darkest of rooms."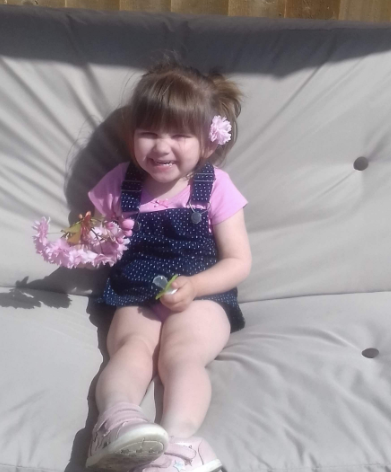 Her family have launched a JustGiving appeal to raise funds for a memorial bench in Ava-May's honour.
The post reads: "On July 1, 2018, 3 year old Ava-May Littleboy tragically lost her life after a bouncy castle exploded on Gorleston beach, Norfolk.
"Her family would like to kindly ask for donations to help fund a child's bench in memory of Ava that will be put in her local park of Somersham, Suffolk."
Superintendent Roger Wiltshire of Norfolk Police said: "We were called to a report of an inflatable trampoline apparently bursting on Gorleston beach, following a call to the ambulance service.
"I'm very sad to report that a three-year-old girl was injured in that incident and subsequently died in hospital.
"The witnesses report a loud bang before the incident but we don't know at this stage what caused the trampoline to apparently burst and that's the purpose of the investigation that we will be undertaking over the next day or so."
He said the inflatable was designed to be used by one person, and she was the only person on it at the time.
Police said experts from as far afield as Wales were assisting with the investigation, and a cordon is likely to remain in place until Tuesday evening.
Supt Wiltshire said the incident was "just unimaginable".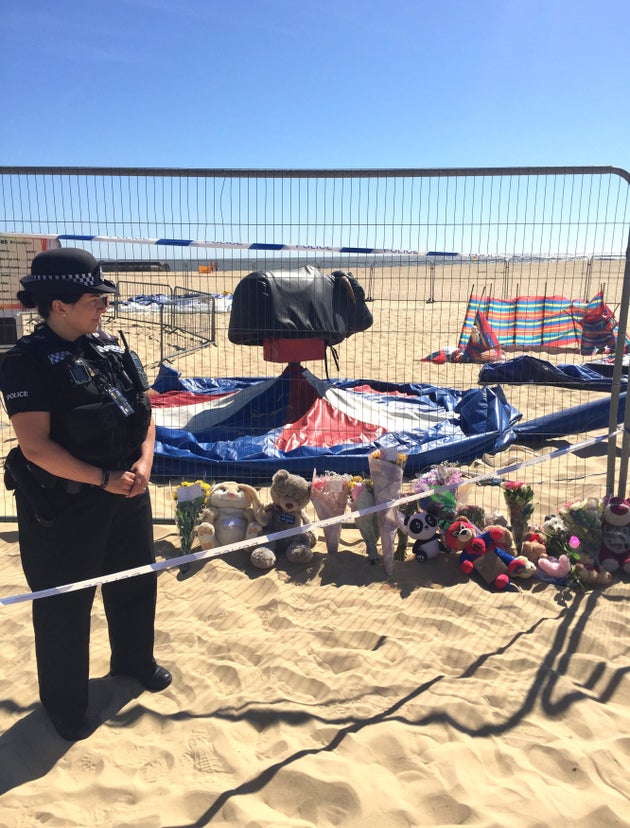 One witness claimed in a post on social media that the inflatable had "exploded" and that the child was thrown several feet into the air, the Evening Standard reported.
Politicians have called for a temporary ban on the giant inflatables after a police investigation was announced.
Robert Halfon, the Conservative MP for Harlow – where seven-year-old Summer Grant was killed after a gust of wind lifted a bouncy castle from its moorings in 2016 – tweeted: "Another horrific tragedy after the horrific tragedy in #Harlow in 2016.
"Clearly there needs to be a serious review into regulations around bouncy castles. Just awful," he said.
That call was backed by Bristol West Labour MP Thangam Debbonaire and Winchester Tory MP Steve Brine.
Fairground workers William Thurston, 29, and his 26-year-old wife Shelby were jailed for three years in June over the "entirely preventable" death of Summer Grant.
The seven-year-old was killed in March 2016 after a gust of wind lifted the inflatable from its moorings at an Easter fair in Harlow, Essex.
The couple were found guilty of manslaughter by gross negligence as well as a health and safety offence.
Source: huffingtonpost