Counter-drone technologies including measures to jam or shoot them down will be tested by the government as part of plans to ensure there is no repeat of the Gatwick Airport Christmas chaos.
New laws will give police stronger powers to crack down on illegal drone use while exclusion zones around airports will be extended.
Alongside these measures in legislation, the Home Office will begin testing the counter-drone technology to help detect and respond to remote-piloted aircraft flying around sensitive sites, including airports and prisons.
A Whitehall source said this would include testing the ability to jam or shoot down drones if they are flying illegally and causing disruption like that seen at Gatwick.
The airport was repeatedly forced to close between December 19 and 21 due to reported drone sightings, causing mass disruption to passengers, with about 1,000 flights affected.
The Army was brought in to help deal with the travel chaos and did not stand down until Wednesday last week.
Gatwick and Heathrow airports have already said they would deploy anti-drone technology in response to the disruption caused by the flying machines in the run-up to Christmas.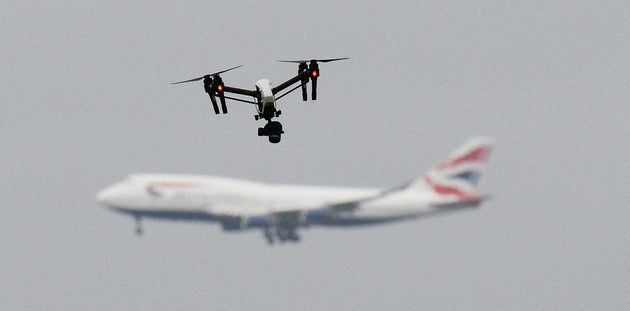 Both airports are investing millions in equipment to prevent future travel misery.
And the government is now bringing forward legislation to tackle drone misuse and abuse after critics said it delayed reforms, an accusation which was rejected by the Department for Transport last month.
It includes plans to give officers additional power to land, seize and search drones.
Exclusion zones will also be widened to a 5km radius (more than 3 miles) around airports in an area shaped like a London Underground sign, with straight line extensions for runways on either side of the no-fly circle.
Officers will also be given the power to issue fines of up to £100 for minor drone offences such as failing to comply with a request to land a drone or not showing their registration to operate such an aircraft.
Baroness Liz Sugg, the aviation minister, said: "Drones have the potential to bring significant benefits and opportunities, but with the speed of technological advancement comes risk, and safety and security must be our top priorities.
"That's why we are giving the police powers to deal with those using drones irresponsibly.
"Along with additional safety measures these will help ensure the potential of this technology is harnessed in a responsible and safe way."
Source: huffingtonpost