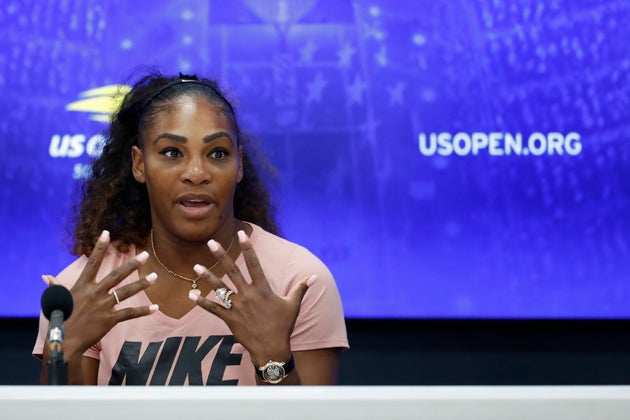 An Australian newspaper that printed a controversial cartoon of Serena Williams has defended the illustration - hitting out at "self-appointed censors" in a provocative front page.
The Herald Sun faced a global backlash after it ran Mark Knight's cartoon following the tennis legend's confrontation with the US Open final umpire on Saturday.
Williams was depicted with an exaggerated face and body, jumping on her smashed racket with a dummy nearby.
In the background, a blonde opponent faces a chair umpire who pleads: "Can you just let her win?"
Author JK Rowling was one of many to weigh in to the debate on the polarising illustration, calling the cartoon "racist and sexist" on Twitter.
"Well done on reducing one of the greatest sportswomen alive to racist and sexist tropes and turning a second great sportswoman into a faceless prop," said the Harry Potter author.
The National Association of Black Journalists said the cartoon was "repugnant on many levels."
"The Sept 10 cartoon not only exudes racist, sexist caricatures of both women, but Williams' depiction is unnecessarily sambo-like," the association said in a statement.
'Sambo', a derogatory term for a black person, is the name of a folkloric figure usually depicted with an exaggerated mouth and an ape-like stance.
On Tuesday, the newspaper hit back at those who criticised the drawing - reprinting the image on its front page.
Underneath the headline "Welcome To PC World", the newspaper wrote: "If the self-appointed censors of Mark Knight get their way on his Serena Williams cartoon, our new politically correct life will be very dull indeed."
The image of the front page includes a series of other cartoons the newspaper was suggesting could offend.
The newspaper's editor, Damon Johnston, backed Knight, also charging Williams had a "tantrum" at the US Open.
He said: "A champion tennis player had a mega tantrum on the world stage, and Mark's cartoon depicted that. It had nothing to do with gender or race. this was about a bad sport being mocked."
Knight now appears to have deactivated his Twitter account and has not commented since the outrage.
Williams was fined $17,000 for three code violations during the controversial match, including breaking a racket and verbally abusing the umpire. She did not stomp on her racket during the match as the cartoon portrayed.
Source: huffingtonpost