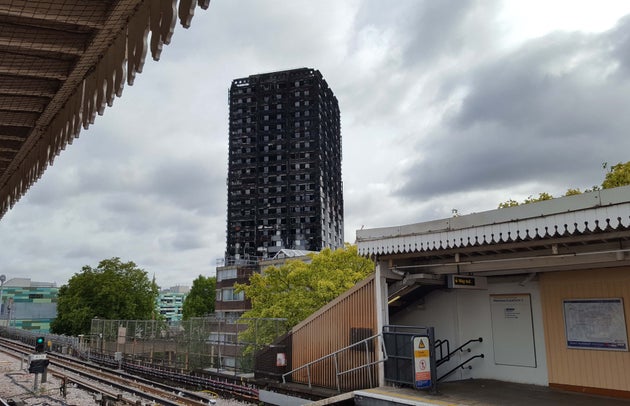 Firefighters want sprinklers to be installed in all new housing blocks to help avoid another Grenfell-style disaster as it warned developers are "consistently ignoring" safety advice.
A London Fire Brigade spot check found developers of only two out of 15 newly-completed housing developments have followed its guidance to install sprinklers since planning applications were made in 2016.
The brigade said it shows the housing industry "cannot self-regulate", and wants all purpose-built residential blocks to have sprinklers fitted, irrespective of height.
The same should apply to buildings housing vulnerable people, including care homes and sheltered accommodation.
It's the latest question to be raised over the safety of buildings in the aftermath of the June 2017 Grenfell Tower fire, which led to the deaths of 72 people.
HuffPost UK has reported in the last two weeks on more than 350 tower blocks still being covered on Grenfell-style flammable cladding and at least 25,000 faulty fire doors remain in use.
LFB commissioner Dany Cotton said she hopes new legislation will be brought in after a government consultation on building regulations ending in March.
She added: "LFB are campaigning on vital things like sprinklers because we think that no community should ever have to suffer in the way Grenfell has.
"Sprinklers save lives, they're not a luxury. We think they're essential in every high-rise building, and in places where our most vulnerable residents live - places like care homes."
Communities Secretary James Brokenshire said sprinklers were important but "one of many fire safety measures" that could be adopted.
In England, sprinklers are only a legal requirement in new residential blocks taller than 30 metres, while they are mandatory in all new domestic buildings in Wales and in residential buildings including care homes, sheltered housing and schools above 18 metres in Scotland.
The brigade also wants the Government to "look urgently" at new regulations to require sprinklers to be retro-fitted in older residential blocks.
Cotton said: "Last year, we had 27 people die in house fires. None of those buildings were sprinklered and people who are dying in places like care homes, those are the people we should be looking after."
In December, shadow housing minister Sarah Jones told MPs that six in 20 tower blocks in Kensington, several within full view of Grenfell Tower, do not have sprinklers and only 4% of council blocks in London do.
Responding to the LFB's calls, Brokenshire said: "There is nothing more important than ensuring people are safe and feel safe in their homes and I welcome LFB's input into our consultation on fire safety regulations.
"I will be considering all submissions, including the LFB's, carefully, in informing next steps.
"Sprinklers can be effective, but they are one of many fire safety measures that can be adopted.
"Sprinklers are already required in all new high-rise residential buildings."
Source: huffingtonpost