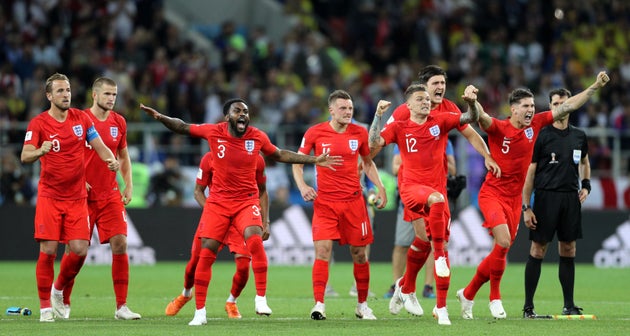 It's coming home.
These three words had to have at some point entered the heads and hearts of each of the 24million people who tuned in to watch England beat Colombia on Tuesday. As the weekend approaches, those words have taken on a new life.
They're everywhere you look. Anchored to every tweet, sprayed on the side of buildings, carved into London bus seats. Even before Dier's penalty, those words have defined this World Cup campaign.
It feels like they've become the momentary glue for our divided nation. It reminds me of when Obi-Wan Kenobi first described the Force: "It surrounds us, penetrates us, and binds the galaxy together". Amid the Brexit hubris, 'It's coming home' is bringing us in from the dark side.
Every interview with the England team ends with the question: "Is it coming home?"
Young England players like Trent Alexander-Arnold say it down the camera on Snapchat as they walk off the pitch.
Pundits and football talent old and new add it to their every proclamation, from Shearer in the BBC studio to COPA90's David Vujanic on the streets of Russia.
Caroline Flack used it to annotate her Instagram shot of some grilled chicken; Ross Kemp shouted it at us in all his manly glory. This week alone, the #itscominghome hashtag was used in over 100,000 social posts in the UK
What on earth is going on? The song has had a place in fans' hearts since David Baddiel and Frank Skinner sang it in the nineties. But the evolution from song to unofficial anthem to the ultimate meme is astounding.
Why aren't we all singing "We're on the ball" in the streets? Well, it was awful. As has been the case with every attempt at a football anthem after Three Lions. So much so, that we don't even have a new anthem this year. "Three Lions killed off the football anthem quite conclusively - and that's because it is the best football anthem of all time," a humble Baddiel said last week.
He's right though. It resonates with the British psyche. We won't believe it, even though we want to. Thirty years of hurt have become 50. And in an age of such discord, it presents a small ray of hope that keeps us believing.
Just as in 1996, the team are playing with a verve and an abandon which had all but fizzled out.
This tournament is just so joyous. The smiling faces of competing nations are being beamed back to us through every phone and in every living room in the land. Children have fallen in love with teams like Nigeria, Japan and Peru. Eight-year-olds can tell you the precise geographical locations of Sotchi, Samara and Kaliningrad. We're culturally curious, globally-aware and have fallen back in love with the beautiful game.
The sad thing is of course, that it will end. The meme is like a balloon, growing bigger and bigger until eventually it bursts to the past tense. 'Football came home' has less of a ring to it, but it's what we're all rooting for.
Source: huffingtonpost