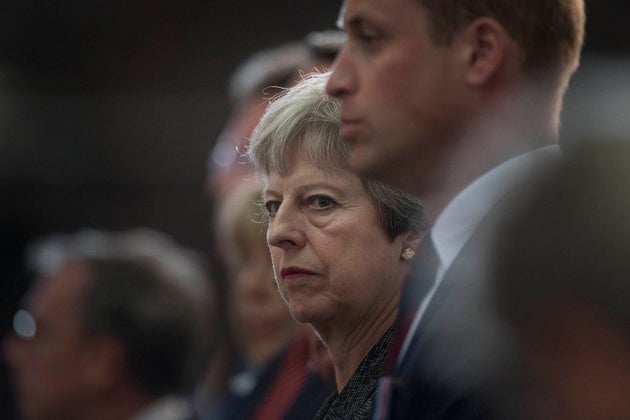 A huge rise in the number of live terror investigations has been revealed in the wake of a fresh attack on Westminster.
MI5's list of live terror probes has grown to 676 from just over 500 just three months ago, as Prime Minister Theresa May confirmed the UK remains under "severe" threat from extremists.
It comes after a suspected attack on Tuesday in which a silver Ford Fiesta ploughed into cyclists and pedestrians near Parliament, before crashing into security barriers.
A number of people at the scene were hurt and one woman was treated for serious, but not life-threatening, injuries.
A 29-year-old man from the Midlands was arrested at the scene and is being questioned by police.
May wished those caught up in the attack a "speedy recovery" as she condemned a "shocking" and "appalling" attack on the "home of our democracy" just 15 months after the Westminster Bridge atrocity left six dead and 50 injured.
Last year, the UK saw the highest number of terror arrests since records began – 412 out of a total of 2,029 since 2010.
In the past 18 months, 13 Islamist terror plots and four extreme far-right terror plots have been foiled by MI5.
But May urged the public to carry on as normal, as the "twisted" aim of terrorists was to divide the country.
She said: "Today's suspected attack outside of the Houses of Parliament is shocking.
"For the second time in as many years the home of our democracy, which is a potent symbol of our precious values of tolerance and freedom, has witnessed terrible scenes just yards from its door.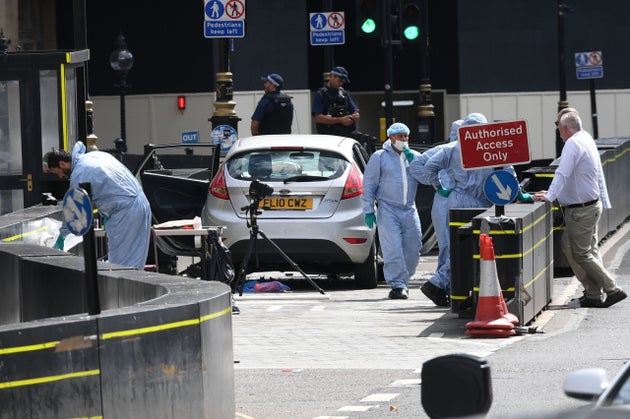 "My thoughts are with the innocent members of the public who were hurt in this appalling incident. I wish them a speedy recovery and we must be thankful that nobody suffered life-threatening injuries."
Labour leader Jeremy Corbyn said the incident was "appalling" and "shocking", adding: "I think we say a big thank you to the emergency response – police, fire and ambulance – for assisting people," he said.
US President Donald Trump, meanwhile, said the attack was conducted by "animals" who must be dealt with through "toughness and strength".
Metropolitan Police counter-terrorism head Neil Basu said the suspect was not co-operating with police on Tuesday.
Counter-terrorism officers are searching two addresses in Birmingham and an address in Nottingham in connection with attack.
The PM also praised the work of emergency services in the aftermath of the attack.
She said: "Once again, they did not flinch and ran towards a dangerous situation in order to protect the public. The country is hugely grateful for their calmness and professionalism.
"The threat to the United Kingdom from terrorism remains severe. I would urge the public to remain vigilant - but also to come together and carry on as normal, just as they did after the sickening attacks in Manchester and London last year.
"The twisted aim of the extremists is to use violence and terror to divide us. They will never succeed."
Basu said the suspect has not been formally identified, but that no other suspects have been pinpointed and there is "no intelligence at this time of further danger" to Londoners.
There are roughly 3,000 active "subjects of interest" to counter-terror police at any one time – while a wider pool of more than 20,000 individuals who have previously featured in probes are kept under review.
Deputy national security adviser Madeleine Alessandri chaired a meeting of the government's emergency Cobra committee on Tuesday.
Home Secretary Sajid Javid has also postponed a family holiday to return to the UK for a briefing from security officials.
Earlier this year, the government unveiled a refreshed counter-terror strategy.
Under the blueprint, MI5 intelligence will be shared with bodies outside the security community in an attempt to stop suspects before attack plots can crystallise, while anti-terror laws are to be strengthened to allow earlier interventions.
Source: huffingtonpost