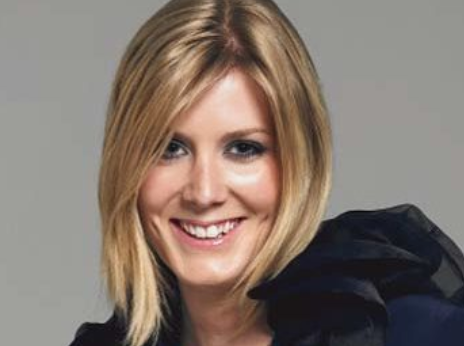 The incoming editor of Grazia has described this year's Oscar winners as "so fat" just days after an edition of the magazine was published championing body positivity.
Hattie Brett, who was appointed editor of the leading women's magazine last month, wrote on Twitter while the ceremony was taking place: "Controversial opinion: why are all the Oscar winners so fat?"
The tweet was subsequently deleted but has been passed on to HuffPost UK. When approached, Brett said she apologised "unreservedly" for any offence caused by what she described as "idiocy".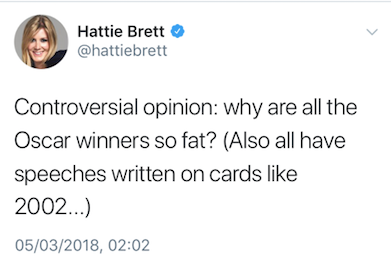 Brett was most recently held the post of deputy lifestyle director at the Telegraph and was expected to start her new role at Grazia UK in June.
Grazia's bumper fashion issue last month featured a plus-size model among its cover stars, using the tagline "Stronger Together". Interviewed for the issue, model Candice Huffine is described as "part of a pioneering wave of plus-sized models helping to redefine the rules of high fashion."
Huffine describes approaching modelling agencies as a teenager. "There were some really shocking moments," she is quoted as saying. "I was told that I was the wrong size, that I had to lose 20lbs."
Brett is set to replace Natasha Pearlman, who stepped down after three years as editor at the magazine.
She also tweeted during the ceremony: "Love how all the British nominees are the ones who need help for make up."

Brett started her career at Grazia in summer 2006, a year after its UK launch.
In announcing her appointment at editor, Grazia publisher Bauer Media hailed how she was responsible for the launch of Grazia Daily and headed up the features team, during which time she interviewed then Prime Minister David Cameron.
Brett then launched the lifestyle website The Debrief for Bauer in 2014 before moving to the Telegraph a year later, where she oversees the fashion and luxury teams across all platforms.
In a statement to HuffPost UK, Brett said: "When live tweeting the Oscars at a screening party, I wrote something stupid about one of the men I saw on screen.
"I instantly regretted it so deleted the tweet, hoping that, as it was the early hours of the morning, not many people would have witnessed my idiocy. However clearly some did and so I apologize unreservedly for any offense caused.
"I hope everyone can relate to making a stupid mistake on social media in this always-on digital age we now live in.
"But this is a learning for me that when you're soon to be in a position of leading a title which speaks for and to smart women your words and actions carry even more weight."
Bauer Media did not want to comment when approached by HuffPost UK as she is not yet an employee. HuffPost UK has approached the Telegraph Media Group, where she is still an employee, for comment.
Source: huffingtonpost