'Killing Eve', a new crime thriller series, has already taken the US by storm, scooping two Emmy nominations after debuting across the pond earlier this year.
The series follows a bored MI5 agent who becomes interested in a string of murders and falls deeper into the case, determined to catch the killer.
The story is based on a series by author Luke Jennings, and adapted for the small screen by Phoebe Waller-Bridge ('Fleabag'). It stars Sandra Oh ('Grey's Anatomy') and Jodie Comer ('Doctor Foster').
The series is being hailed as feminist, and has ignited a huge LGBT+ fanbase.
Episode 1 sees Eve (Sandra Oh) being tasked with protecting the only witness to a murder. She starts to suspect the killing is linked to a string of other murders across Europe, and is convinced the killer is a woman.
We see Eve collecting clues and getting over-involved in the case, even though she's not supposed to be investigating. We also see our assassin, Villanelle (Jodie Comer), continue on her murdering spree.
S N A P V E R D I C T

"Bet you 20 quid it was a woman," Eve says after taking one look at the corpse of the Russian politician just murdered in Vienna. No one believed her at the time, but she was right on the money.

Episode one of the series has got us absolutely hooked. Opening in the Austrian capital, we see our antagonist chuck ice-cream on a little girl within the first two minutes. She's heartless, but in a way that's fascinating – how did the character develop such a level of psychopathy?

Then we meet our protagonist, a bored MI5 officer who always wanted to be an agent, in dreary London. When Eve is introduced, the show passes the Bechdel test within ten minutes – and both women involved in the event are women of colour to boot.

Eve is interested in murder, bloodshed and the mindset of psychopaths in a way that might make true crime watchers uneasy in its relatability. We catch her gazing with intrigue, which seems to border on affection, at dead bodies and police evidence, more than once. At one point, she even gives herself a tiny stab wound to try and isolate the artery that resulted in the victim's death. We're fascinated in watching her own fascination.

Villanelle has more fun as a character – we loved that she steals her victims smallest possessions – tampons, razors, and bottles of nail polish. When she's set on her first mission of the series, she has an online stalk of the man she's about to kill, and says: "Aw, nice face." Her characterisation is humorous, and somehow vaguely subversive, in its lack of care and empathy. We get to see Villanelle's first brutal 'kill', which is interesting to watch in the way it combines flair and realism – she uses a poison silver hairpin as a weapon, and stabs her victim straight in the eye.

We loved getting glimpses into Villanelle's inner life. Like when she's woken up by Konstantin, the guy whose job it is to basically tell her who to kill next – and she's casually snuggled up with a guy and a girl, after what we can only presume was a good night of tackling the 'loneliness' she talked about feeling as a solo assassin. It's a subtle five-second gag, but a rare peek into what life on the road might be like as a psychopathic killer who gets bored and feels isolated in the same way we all do.

The music and cinematography are indulgent, they know how to manipulate our emotions to feel like we're really tied up in the murders, but the makers also know how to take it all away at once and snap us back to reality. It's cleverly, and stylishly done.

We loved seeing an Asian-American Sandra scoop the titular role – whose character's race isn't once mentioned or made central to her identity. Sandra embraces Eve's humour, her obsessiveness and her dedication expertly. Both women's characters are built out with serious complexity and an eye to breaking gender stereotypes. But the plotline is also superb in being full of surprises, many of which are bloody.

In short, we're here for it.
B E S T L I N E S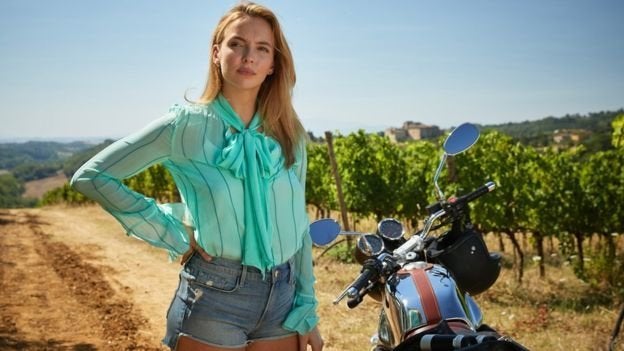 When Carolyn asks Eve if her husband might suspect she's having an affair if she starts investigate the case in secret:
Eve: Niko would assume I was an agent before ever thinking that I was having an affair.
Carolyn: You might want to make him think you're having an affair, then.
After Bill reveals he's wanted to call his superior, Frank, a "dick-swab" for years:
Eve: You're a dick-swab.
Bill: Oi!
Eve: Sorry.
Bill [explaining to Frank]: *I* was gonna call you a dick-swab.
Eve, without missing a beat, when her husband asked how she'd kill him if she had to:
I'd paralyze you with saxitoxin and suffocate you in your sleep.
Chop you into the smallest bits I could manage, boil you down, put you in a blender, then take you to work in a flask and flush you down a restaurant toilet.
Intense.
T A K E H O M E M E S S A G E

'Killing Eve' is representation of women in the crime thriller genre at its finest. If you're looking for something a little different that will keep your attention with both a gripping plot, and serious character depth, this is the drama for you. We challenge you not to rush straight to your computer and watch the second episode straight away.
'Killing Eve' is available to watch now on BBC iPlayer.
Source: huffingtonpost