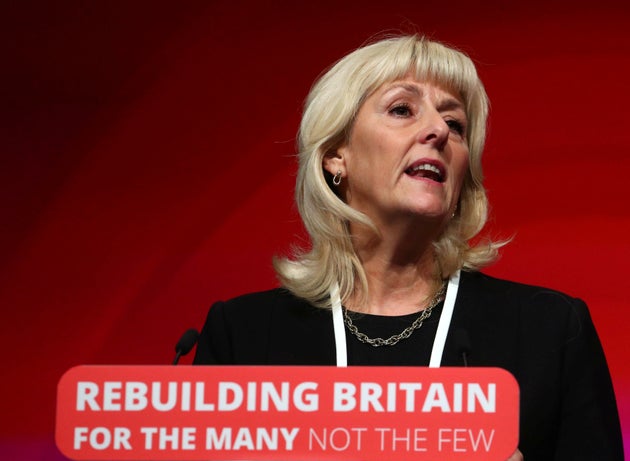 Labour's anti-semitism row has reignited dramatically after MPs accused their party general secretary Jennie Formby of failing to tackle the 'cancer' of hatred against Jewish people.
At a heated meeting of the Parliamentary Labour Party (PLP), backbenchers reacted with fury as Formby refused a formal request to share data the party held on threats to its MPs and on the scale of abuse more generally among members".
The anger of some Jewish MPs deepened further when the party chief told them it was "impossible" to eradicate anti-semitism, though she insisted she was totally committed to changing procedures and party education to reduce it.
Following the hour-long meeting in the Commons, MPs said that Formby now has a week in which to give 'answers' to prove Labour was taking concrete action against the abuse and harassment suffered.
Nearly a year after Jewish groups protested outside parliament about Labour's failure to get a grip on anti-semites in the party, the PLP passed a motion demanding tougher measures to combat the issue.
Their motion listed 11 questions that "the party leadership" had to answer, including how many disciplinary cases remain outstanding, the number of complaints received and how the party is engaging with targets of antisemitic abuse.
After the motion was passed, Formby told MPs that it was her mission to tackle the problem, but she could not unilaterally decide to share data held confidentially by the party.
"I don't answer to the PLP, I answer to the NEC [the ruling National Executive Committee]," she told the meeting, one MP said.
"Let's be honest, it's impossible to eradicate anti-semitism completely," Formby is alleged to have added.
Party sources said her remarks were made in the context of her arguing for better processes, structures and educational programmes to tackle the issue in Labour ranks.
"Jennie has stated her total commitment to tackling anti-semitism, many times, including this evening," one source said.
But Labour MPs reacted badly to Formby's tone and approach. Dame Margaret Hodge raised a point of order during the meeting to complain bitterly about the refusal to carry out the wishes of the MPs.
"For me, if you want to get rid of the cancer of anti-semitism in the Labour party, you have to have complete transparency and she's refusing to do that. That's why I'm angry," Hodge said afterwards.
"A number of contributors said at the beginning this is not a vile plot to undermine Jeremy, this is about tackling anti-semitism. Transparency is the route to trying to eliminate it. Permission has been given for anti-semitism on the Left."
Luciana Berger, another Jewish MP who has been targeted by vile abuse, told the meeting "one anti-semite in our ranks is one too many" and warned that the promises to tackle the issue "must be more than words".
She said that "not a day passes by" when she isn't contacted by a constituent or member of the public about the party's poor reputation among the Jewish community.
Afterwards, she said: "There's a community that are hurting and we have a responsibility as a party to be true to the value of equality and anti-racism.
"We are a party that's supposed to pride itself on having equality at its core and yet we were told by the general secretary today that she cannot eradicate anti-semitism completely. Frankly that's not good enough."
She added: "We were told she was answerable to the NEC and that they had decided that they won't be making any of this information public. We have passed this motion unanimously, if we are serious about contending with the stain of anti-semitism in the Labour party, we must get a proper response to all these questions. None was forthcoming today."
Labour MP Wes Streeting added that Formby's response was "platitudinous, dismissive and far from acceptable", and that not giving MPs the data she had "ruled out any ability of Jewish members and Jewish constituents having confidence in the Labour party's ability to tackle it". "We are leaving the meeting feeling worse than we did when we walked in," he said.
Earlier, in a message to Labour MPs, published on the LabourList website, Formby set out the "significant progress to strengthen and speed up our procedures" since she became general secretary.
"I am proud of the progress that has been made but I'm not complacent," she said. "There is more work to be done to ensure all cases are dealt with quickly and fairly, and to eliminate the evil of anti-Semitism from our movement once and for all."
A party source added that she had given a "comprehensive update on the significant work that's been done to strengthen and speed up procedures and addressed the points in the motion".
But they added: "Complaints processes are confidential and the party has a responsibility to protect members' data."
Source: huffingtonpost