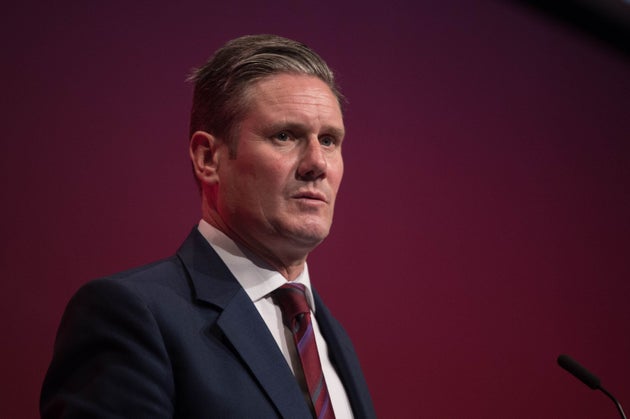 Labour is set to vote against Theresa May's Brexit deal, Keir Starmer will confirm on Tuesday.
It comes as a poll for HuffPost UK found twice as many voters preferred a Canada-style free trade deal to the prime minister's Chequers proposal.
The shadow Brexit secretary will tell Labour's conference in Liverpool that the public deserve "clarity" on the party's position.
"Some have said Labour could vote for any deal the Tories reach. Some have said we may abstain. Some have said we may support a vague deal – a 'blind Brexit' – that gives no detail about the terms of our future relationship," he will say.
"So, let me be very clear - right here, right now: If Theresa May brings back a deal that fails our tests – and that looks increasingly likely - Labour will vote against it. No ifs, no buts.
"And if the prime minister thinks we'll wave through a vague deal asking us to jump blindfolded into the unknown she can think again. You can't meet Labour's tests by failing to provide answers. We will vote down a blind Brexit."
The move comes ahead of a crucial vote on Labour's approach to Brexit amid divisions at the top of the party over whether a second referendum could include the option of remaining in the EU.
Delegates at the party's Liverpool conference will vote on Tuesday on a motion to keep a new referendum "on the table" if Labour is unable to force a general election.
Shadow Chancellor John McDonnell has suggested that any such poll would be on whether to accept a Brexit deal or conduct fresh negotiations with Brussels, rather than seek to reverse the 2016 decision to leave the EU.
But in a slap down to McDonnell, Starmer told reporters that EU membership could be on any ballot.
"We weren't ruling out options and nobody was ruling out 'Remain'," he said.
It came as the prime minister told her cabinet ministers to hold their nerve as Brexit negotiations hit a difficult stage in the wake of the rejection of her plans by EU leaders at Salzburg.
The meeting came as the Department for Exiting the EU released guidance for UK businesses and households preparing for a no-deal Brexit, which warned of possible disruption to flights and coach services to the continent.
Meanwhile, hardline Brexiteers piled pressure on Mrs May to ditch her Chequers blueprint for future relations with the EU.
Senior Tory Leavers including David Davis and Jacob Rees-Mogg attended the launch of a report by the Institute of Economic Affairs think tank calling on the Government to seek a "basic" free trade agreement for goods of the kind struck between the EU and Canada, while pursuing "regulatory freedom and trade independence".
Source: huffingtonpost