The chairwoman of the Labour's disputes panel has stood down after asking for a council candidate embroiled in a "Holocaust denial" row to be let back into the party.
In a fresh anti-Semitism row underling how the issue continues to engulf the party, Christine Shawcroft said she would not have sent an email calling for the candidate to have his suspension lifted if she had been aware of all the facts in the case.
Shawcroft, an ally of Jeremy Corbyn, said she had not seen the "abhorrent" image posted on Facebook when she made the request.
Her departure follows The Times obtaining an e-mail sent by Shawcroft.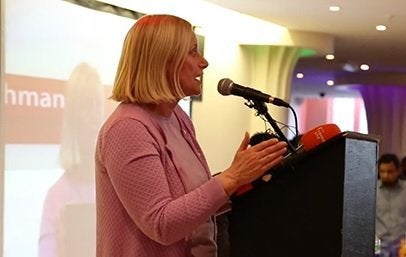 According to the Press Association, Shawcroft said: "I sent this email before being aware of the full information about this case and I had not been shown the image of his abhorrent Facebook post. Had I seen this image, I would not have requested that the decision to suspend him be re-considered. I am deeply sorry for having done so.
"This week we have seen a clear expression of the pain and hurt that has been caused to Jewish members of our party and the wider Jewish community by anti-Semitic abuse and language, and by the reality of anti-Semitism being denied and downplayed by others. In light of this, I have decided to stand down as Chair of the Disputes Panel to ensure my wrong and misguided questions on this case do not cause doubt or anxiety about our processes.
"We must eliminate anti-Semitism from our party and wider society. To do this we must make sure our processes are as robust as possible and have the faith and confidence of our members."
The resignation came on another tricky day for the Labour Party as Labour MP John Woodcock signalled that he was considering resigning the whip in protest at Corybn's leadership on anti-semitism, Russia and Brexit.
Meanwhile, the leader of Barnet Council's Labour group has declared that Corbyn has a "blind spot" on anti-Semitism that risks costing the party crucial Jewish support in its bid to topple the Tories in the local elections.
In an exclusive blog for HuffPost UK, Barry Rawlings said the Labour leader should state clearly that his supporters on the Left who compare Israelis to Hitler are "no better than far right fascists".
In January, HuffPost UK revealed how Corbyn supporters had used their new majority on Labour's ruling National Executive Committee (NEC) to get Shawcroft the key position.
Momentum-backed members of the NEC voted by 22 to 15 to oust Ann Black, the longstanding chair of the Disputes Sub-Committee, and replace her with the veteran left-winger.
Labour's John Mann, chairman of the All-Party Parliamentary Group against Antisemitism, said an "attempted cover up" should lead to further resignations.
He said the "Shawcroft disgrace" was significant because it was "predictable" and she had recently been voted in by Labour's leadership to oversee discipline in the party.
Mann tweeted: "Why was she not sacked on Sunday? Why did it require a leak to a newspaper? Others should be resigning too over an attempted cover up.
"Momentum should expel Shawcroft tonight… and demand her expulsion from the NEC and Party."
Luton South MP Gavin Shuker wrote on Twitter: "If this is true, Christine Shawcroft doesn't just need to step down from chairing the disputes panel; she needs referring to it."
Jennifer Gerber, director of the Labour Friends of Israel, said: "Christine Shawcroft should be suspended from the Labour Party and kicked off the NEC.
"Those who defend Holocaust deniers should have no place in the Labour Party.
"If Jeremy Corbyn is serious about his new zero tolerance approach to antisemitism he will deal with this as a matter of urgency."
Earlier on Wednesday, the Labour gave an interview with the Jewish News where he said: "I'm not an anti-Semite in any way, never have been, never will be."
He added: "Let me say this very bluntly: anti-Semitism is a cancer in our society and it has resurfaced across Europe and in Britain in recent years. It has to be challenged at every single stage."
Corbyn said the party was taking action, stating: "Of the Labour Party cases, some of which I inherited on becoming leader, there's been 300 references since 2015, 60 are still under investigation, 24 have gone to the National Constitutional Committee, 24, roughly, went to a final warning, and 150 were either expelled or resigned.
"That represents 0.02% of the party membership. There are other cases pending. I've said to our newly-appointed general secretary that her first priority has to be the full implementation of the Chakrabarti Report and there has to be an appointment of an in-house lawyer, a legal team, to ensure that there is a proper approach to all of these cases and of the – I understand – 70 cases due to be dealt with. They must be dealt with as quickly as possible."
Source: huffingtonpost