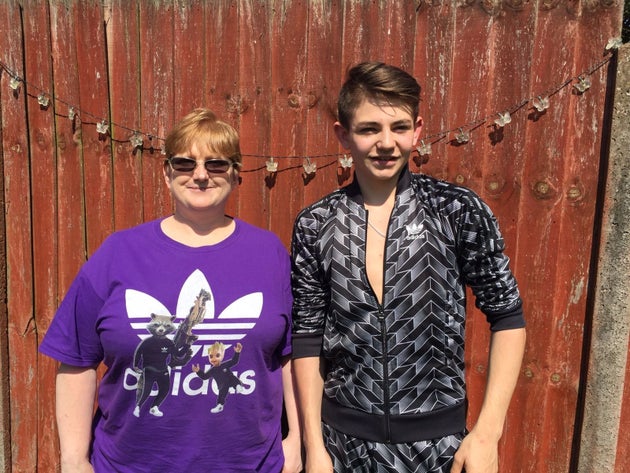 Homeless at the age of 16, Jordan Coughlan would walk the streets of Birmingham all night just so he wouldn't have to sleep on them.
Having lost his mother to suicide when he was 13, he had spent three turbulent years in foster care, bouncing between homes, before he finally ended up on the streets, separated from his three younger siblings.
It was a rough time. He got into trouble with the police, was thrown out of college, and was in his own words "a borderline alcoholic" when he landed on Hannah Lees-Smith's front doorstep in 2011.
But this time, things would turn out very differently.
Lees-Smith had decided to open her home to troubled teenagers who urgently needed shelter, working closely with one of the city's main youth homelessness charities, St Basils.
The charity works with young people aged 16-25, helping thousands a year in the West Midlands region through supported lodging schemes - for which Lees-Smith is now a host.
Between April 2017 and March 2018, 1,577 young people were housed and 89% were prevented from being homeless through schemes like this one, the charity says.
For Lees-Smith, it was exactly the kind of project she was looking for. When she started taking young people in six years ago, she was recently divorced and had undergone a hysterectomy, leaving her unable to have children.
At a loss over what she was going to do next in her life, she spotted a newspaper advert by St Basils looking for supported lodging hosts.
Following a recruitment and assessment process, Lees-Smith, a special needs teacher, was matched with Coughlan for a three-month stay. But he ended up staying 18 months.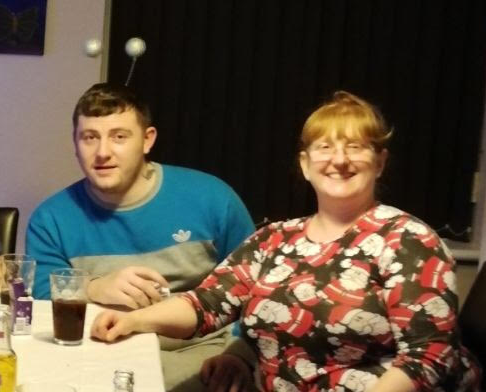 "He had a carrier bag full of old clothes that didn't fit him. That's all he had," Lees-Smith said.
"He's a big lad. Even then he looked like a man, but inside he was a little boy. He was very fearful, you could see he was really broken and he just didn't trust anybody or have anyone he could go to. He was in a really sad place and sleeping rough was the least of his worries as he'd had such an awful childhood."
Lees-Smith broke the ice by putting on a Batman DVD and asking Jordan who his favourite superhero was. Then they went shopping for pizza and chips – his favourite foods.
"That's all he wanted at the time. He didn't 'do' cooking so I just bought what he wanted to make him feel comfortable. After that I start trying to teach them some cooking skills."
St Basils supported her by providing bedding and funds to cover bills, shopping, and a small amount of compensation for the use of her spare bedroom.
I was lost until I found her. She didn't need to but she helped me so much. She saved my fucking life
Jordan Coughlan
For Birmingham, as with the rest of the country, homelessness is on the rise. Figures released by the Ministry of Housing, Communities and Local Government in January revealed there were 57 people registered as sleeping rough in Birmingham last Autumn – an increase of 3% from 2016's figure of 55 and a major increase from just nine people reported in 2010.
This month, the charity Crisis said there are currently 236,000 people across England, Wales and Scotland who are homeless. This includes people living on the streets, in cars and tents, or in unsuitable temporary accommodation.
The St Basils home stays range between three months and two years, and often act as an opportunity for the young person to heal family rifts and rebuild relationships, it says. The length of the stay tends to end by agreement when the young person turns 18, though they can be extended.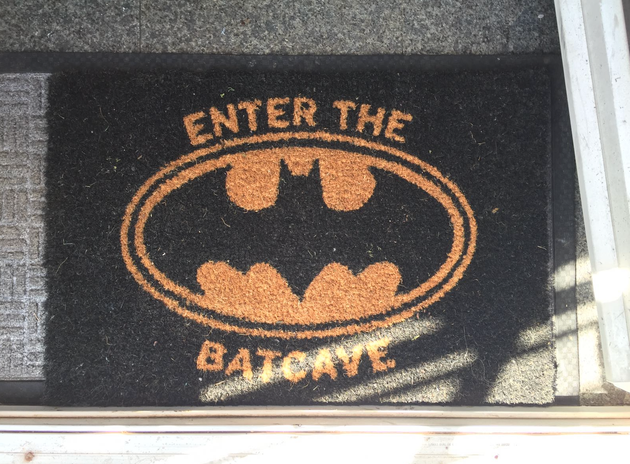 Six years on, Coughlan's life has turned around, he says. He has a job with Rolls Royce, a girlfriend, and his own home – and he credits Lees-Smith with all of it.
"I was lost until I found her. She didn't need to but she helped me so much. She saved my fucking life. Life's a bit rubbish sometimes but as soon as I moved there I started progressing, that's what started it all off," he said.
Since Coughlan left, Lees-Smith has opened her home to two more teenagers, one of whom is still living with her. The 43-year-old said: "I was a youth worker before I was a teacher so I'm not afraid of young people."
But even Lee Thornton, who is currently living with her, is still unsure as to why she does it. "He has asked the questions: 'Why do you do this? What's in it for you? Why are you having me in your house? Why are you trusting me with keys?'
"I always reply: 'Because I'm a Christian, I believe in trust, that it's the right thing to do.'"
Following Coughlan's departure, Thornton arrived on his 17th birthday in April last year. His relationship with his mother had broken down and because he had nowhere consistent to live, he was missing a lot of school.
Sometimes he would stay in friends' spare rooms, but sometimes he didn't have a place to go at all.
"I remember one of the first times I was kicked out and I was sitting outside my friend's house and he got me a pizza for dinner and looked after me. I was sleeping under their living room window so I knew I was safe.
"Obviously his mum didn't know but when she found me out she got me in the house."
It was his college which suggested he contact St Basils, and he was duly matched with Lees-Smith.
"On my first night here I was remember lying in bed and looking around and feeling weird. I had one suitcase with my tracksuits, deodorant, aftershave, shower gel and my teddy," he said.
I'm not their surrogate mum. I'm just Hannah, a big sister, a friend
Hannah Lees-Smith
Since that uncertain first night, the tracksuits have been unpacked, posters have appeared on the walls of his bedroom, and having disapproved of her floral bedsheets, Lee now sleeps on a duvet cover featuring the New York skyline, a gift from Lees-Smith.
When she had to spend a week in hospital recently, Thornton was tasked with bringing her a wash-bag and pyjamas. "I didn't like being here on my own, I was like 'When are you coming home?'" he said.
With Lees-Smith's support, the 18-year-old has now been accepted by the RAF, after passing the entrance exams earlier this year. He'll be moving to base in August – and he'll be taking his teddy with him.
"You secure yourself with the people around you. It has helped me. Hannah is like a sister, she's always there for you. She knows all my mates, knows their names. Most of them have been round for dinner."
Lees-Smith agreed. "They become my adopted brothers, they become my family. I'm not their surrogate mum. I'm just Hannah, a big sister, a friend."
Coughlan, who came back to spend Christmas with Lees-Smith and Thornton, is keen that other teenagers consider schemes like St Basils.
"It can be scary and you'll not find someone like Hannah in every place you go, but there are so many good people out there, sometimes you've just got to take a leap of faith and have some trust.
"You never know, you might end up like me; successful, and living a nice life."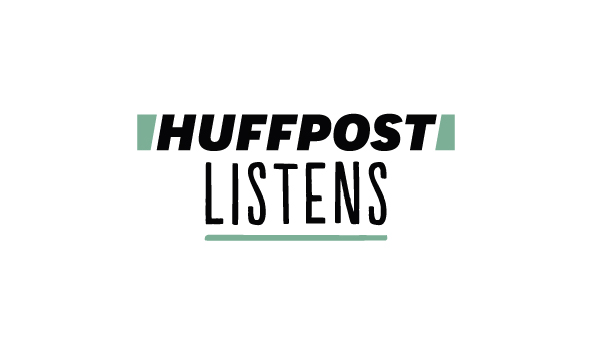 HuffPostListens – Birmingham

HuffPost wants to get out of the media bubble and tell the real story of the UK. For one week we relocate our newsroom to the heart of Birmingham and invite people to tell us what they care about - we will go and report on it. We're also hiring more reporters out of London, starting in Birmingham. We don't think the media has listened to people enough, so that's what we're doing. Listening to the stories of Birmingham, opening up our newsroom to its people and telling the real story of Britain from the heart of one of its biggest and best cities. You decide the news. We'll tell your story. Birmingham, be heard. #HuffPostListens

HOW YOU CAN GET INVOLVED

Visit our open newsroom at the Bullring and tell us your story. We're right by the Rotunda, next door to Next, Upper East Mall, Bullring, Birmingham, B5 4BG
Opening times: Mon-Friday: 10am-8pm, Sat 9am-8pm, Sunday 11am-5pm
Find us across the city on mobile "Listening Posts" and tell us your story:
MediaCom Birmingham
Birmingham Moor Street Station
Birmingham Town Hall
Birmingham City Centre, Marks & Spencer
Email listentobirmingham@huffpost.com

, or WhatsApp +44 78968 04043 and tell us your story

Join our Facebook group

and tell us your story

Visit huffpost.co.uk

from Monday and read your stories there
Source: huffingtonpost