Earlier this year Aldo Ferreira, 29, and Benny Defries, 91, struck up an unlikely friendship. Each week, Aldo would sit in Benny's living room while they passed a ball to one another. The pair would then work through a list of exercises for an hour, which were intended to improve Benny's strength and mobility.
Aldo, who works part-time while also studying at Anglia Ruskin University, is one of 34 volunteers who took part in a pilot scheme aimed at reducing the number of elderly falls in the area, therefore easing the burden on the local ambulance service. Elderly falls account for roughly 40% of all ambulance callouts to the homes of people over 65, according to The Kings Fund.
The 29-year-old's ultimate aim was to get Benny mobile over a period of eight weeks, but along the way they became pals. "I really enjoyed my visits with Benny," said Aldo, who lives in Woolwich. "He was very interesting to talk to. While we could have spent the entire visit chatting each week, we would always follow and complete our schedule of exercises."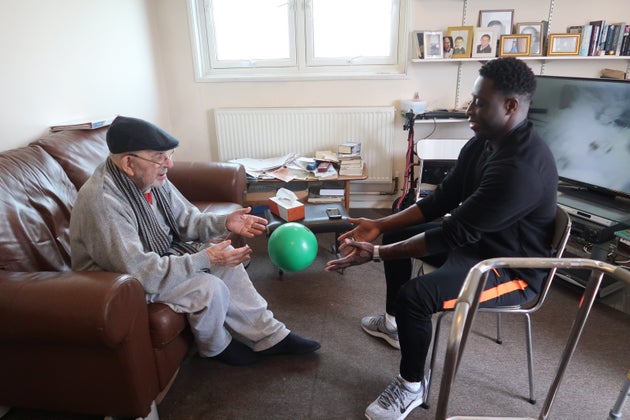 The pilot scheme, run by the London Ambulance Service and the Royal Voluntary Service, has helped cut emergency calls and visits to A&E among frequent fallers in the London boroughs of Merton and Hackney.
Older people who fell frequently and called 999 were referred to the Royal Voluntary Service, who then paired them with local 'mobility volunteers'. These volunteers visited them in their homes and worked with them for a period of 6-8 weeks to improve their physical function.
The pilot had a number of positive outcomes, including a 42% reduction in falls among participants, a 45% decrease in calls from them to 999 as a result of a fall, and a 29% reduction in them being admitted to A&E.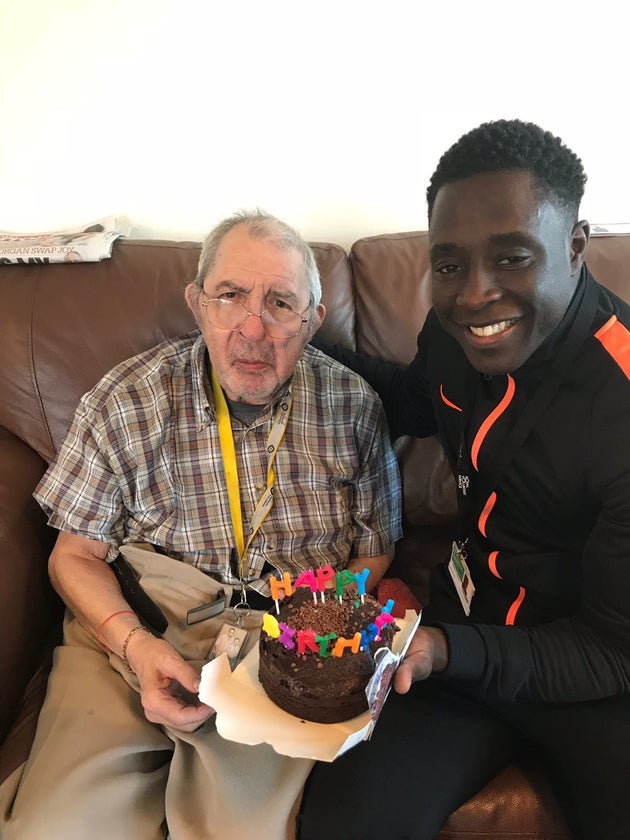 They also showed improved physical function and health and wellbeing. Almost two thirds (60%) improved on a 30-second 'sit to stand' test and almost 70% improved on walking or gait speed.
Health improved, happiness increased, and one in four said they felt less lonely.
Aldo and the team of volunteers received specialist training to provide 45-60 minute exercise sessions each week. This included leg strengthening exercises to help elderly clients get out of a chair or off the toilet, and arm exercises to help them get dressed and out of bed.
Aldo said the exercises helped Benny, improving his mobility over the weeks. "It was great to be able to support Benny, not just through physical exercise but by providing him with companionship as well," he added.
During the pilot period over 70 referrals were received from London Ambulance Service or falls teams working with the ambulance service. A total of 31 very frail clients, the majority of which were aged 85 and over, completed the full 6 to 8 week intervention.
Dr Allison Smith, Head of Strategy and Development at Royal Voluntary Service said: "We are very pleased with these results. Given the age and high levels of frailty of these clients and a relatively short period of intervention.
"Such findings are very encouraging and suggest greater gains might be made with a longer support period."
HumanKind is HuffPost's celebration of kindness, featuring people who do incredible things for others or the planet – transforming lives through small but significant acts. Get involved by joining us on Facebook or telling us about the people who you think deserve recognition for their kind works. You can nominate them here or share your personal story by emailing natasha.hinde@huffpost.com.
Source: huffingtonpost