Two large-scale moorland fires have merged to create a major incident near Bolton, police said on Saturday.
The fires on Winter Hill and Scout Road, near Bolton, have merged, with pedestrians and motorists urged to stay away from the area.
Appealing to the public to keep their distance, Lancashire Fire and Rescue Service said in a post on Twitter they "appreciate" the offers of help but are "really concerned that members of the public are heading up on to the moors".
"Keeping windows and doors closed due to the smoke is also advised. Thank you," the fire service added.
Greater Manchester Fire and Rescue Service said it had 28 fire engines tackling the moorland fires.
There are about 120 personnel on the moors, split between seven areas of wildfire in Tameside and Winter Hill, Bolton.
Assistant chief fire officer Dave Keelan said: "This is an exceptionally challenging time and I am proud of the hard work and brave commitment of our firefighters."
Lancashire fire service area manager Tony Cook said "very intensive firefighting" is taking place on Winter Hill, including personnel doing shuttle runs in appliances to get water to the scene while others manually try to beat the fire out.
Fire break trenches are also being dug to try and protect local buildings.
He told Rock FM News the blaze is now considered "a major fire with substantial consequences", adding: "For us, one of the major issues is the strategic infrastructure of Winter Hill radio mast, so we need to protect them."
Scout Road, Belmont Road, Smithills Dean Road, Longshore Ford Road, Walker Fold Road at the junction with Chorley Old Road and Georges Lane at the junction with Matchmoor Lane are among the roads which have been closed.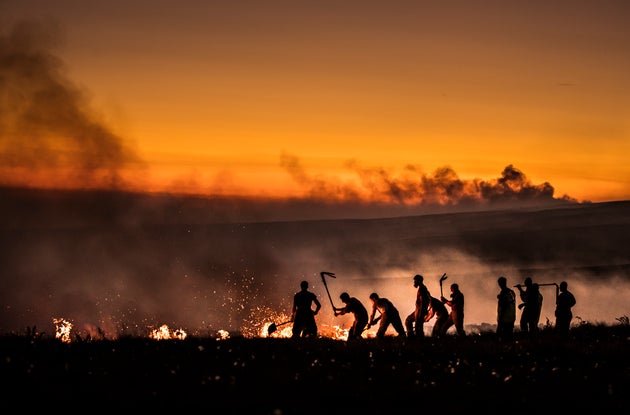 Source: huffingtonpost