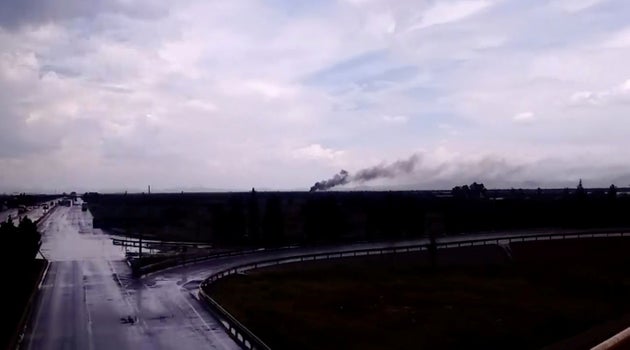 Some 85 people have been injured after an Aeromexico-operated passenger jet crashed just after take-off in Mexico.
The state's civil protection agency said there were so far no reports of deaths.
Television images showed a plane coming down in the state of Durango on Tuesday.
The Mexican airline confirmed an Embraer 190 plane with capacity of 100 passengers was involved in the "accident".
Shortly after taking off, the plane made an emergency landing about six miles from the airport, Alejandro Cardoza, a spokesman for the state's civil protection agency said on local television.
Governor Jose Rosas Aispuro said on local television that the plane was bound for Mexico City.
"The plane was taking off," said Rosas Aispuro, adding that witnesses told him there was "a bang" and then without warning the plane was on the ground.
TV images showed the tail of a plan bearing an Aeromexico logo emerging from scrubland and a column of smoke rising into the sky.
A reporter for network Milenio said some passengers had survived and walked to a highway to seek help.
With reporting from Reuters.
This is a breaking news story and will be updated. Check back for the fullest version. Follow HuffPost UK on Twitter here, and on Facebook here.
Source: huffingtonpost