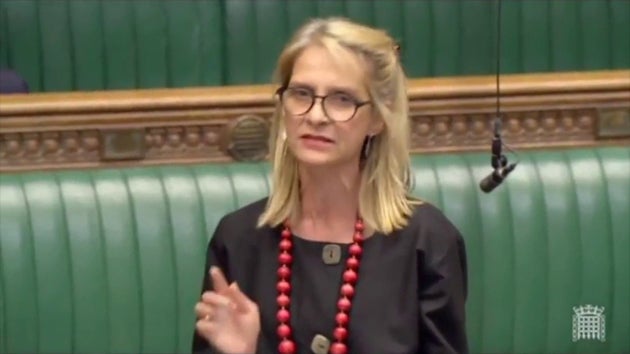 Taking an 'upskirt' photograph of someone without their consent is set to be made a sexual offence after a landmark campaign by an MP.
The "alarmingly common" practice of taking a photograph underneath a person's clothing without their knowledge cannot currently be prosecuted, even if the culprit is caught and identified.
But the Government today agreed to give its backing to a Private Members' Bill tabled by Lib Dem Wera Hobhouse, who demanded such incidents be recognised specifically as a criminal act.
It follows a lengthy campaign by Hobhouse, who was elected last year, alongside upskirting victim Gina Martin and her lawyer Ryan Whelan.
The tactic, also known as taking a "creepshot", is already illegal in Scotland and critics said current voyerism laws in England and Wales don't go far enough.
Hobhouse's proposed legislation is based on detailed testimony from campaigners calling for a change in the law in England and Wales and has now been backed by justice ministers.
Announcing the news on Friday, the Bath MP said: "I got involved in politics to change things that my constituents and I care about. I am incredibly grateful to Gina Martin for starting this campaign, and for giving me the opportunity – in my first year in Parliament – to do exactly that.
"The fact that the Government has listened to our calls is testament to the widespread consensus that there was a gap in the law that needed to be addressed. By working with Gina and ministers on the detail of my bill, we have demonstrated that when we work together successfully we can make a difference on issues that really matter to people."
Hobhouse said "making the case for common sense" meant future victims could expect immediate action from police to bring perpetrators to justice.
Her bill will receive its second reading in the Commons on Friday and she will work with the Ministry of Justice to reform current legislation.
Martin started her drive to make the practice illegal after being targeted by two men at a Killers gig last year.
"I brushed them off multiple times and asked them to leave me alone but they persisted. Then, to spite me, one of them stuck his hands between my legs and up my skirt – in broad daylight – and took pictures of my crotch," she wrote of her experience on the website Refinery29.
Reacting to news of government support for the bill, she said: "I've been on an extraordinary journey since [the incident]. The inner workings of politics were a mystery to me, so I brought in my lawyer Ryan Whelan to help me create an argument that was legally sound and politically astute.
"And now, the result of all that hard work is that women and girls who needed this law changed are being heard by those in power.
"This has been a colossal undertaking for me personally and professionally, and I absolutely couldn't have done it without Ryan and the incredible public behind me."
Source: huffingtonpost