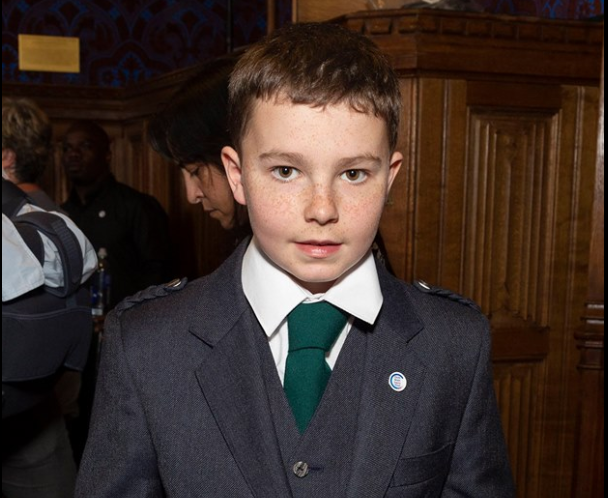 When 10-year-old Anson Mackay was left with a brain injury after being beaten over the head by one of his fellow primary school pupils, it was 10 months before he was well enough to return to a classroom.
Having already recovered from concussion and whiplash, Anson – now 12 – was left with a chronic 24-hour-a-day headache, as well as severe visual and sound sensitivities which make his pain worse.
But when he and his mother Fay presented his new school in Aberdeenshire with a list of requirements to stop his discomfort from becoming overwhelming – such as his need to use cream-coloured paper, avoid very loud noises and inability to look at computer screens – they found themselves facing a series of hurdles to get teachers to implement them.
"It's all about awareness," Fay told HuffPost UK. "Anson comes out of school often enough very frustrated and says 'I just wish I had a bandage around my head, because one week somebody might remember and the next week they've forgotten.'"
He told his mum: "It's okay for someone who comes into school with a broken leg because they get looked after every day. I don't get looked after or given support.'"
Despite letters from MSP Lewis MacDonald supporting Anson's case and representatives from the Child Brain Injury Trust attending meetings with the school, for more than six months the schoolboy's attendance regularly dropped below 20% as a lack of support – and therefore high levels of pain – left him physically unable to stay in class.
While Anson is now receiving some help from his teachers, Fay said she worries her son will be held back by a lack of understanding about his brain injury.
"He wants to sit his National 5 exams as he wants to be an engineer or an architect," she said. "But it's a worry, because they keep treating him like he has a learning difficulty, and he doesn't."
Anson's is just one of the issues raised in a report from a group of cross-party MPs calling for wide-ranging reform of the way brain injury is treated in schools, hospitals, sports grounds and prisons.
Research suggests someone is admitted to hospital with a brain injury every 90 seconds in the UK, with 1.3 million people currently living with the effects of such injuries.
"Brain injury is a hidden epidemic in our country that needs action now," said Labour MP Chris Bryant, chair of the All-Party Parliamentary Group for acquired brain injury.
"The evidence shows that when kids suffer blows to the head that result in brain injury but go untreated, they are less likely to do well at school, more likely to commit crime and more likely to have mental health difficulties, yet most teachers and sports coaches aren't given the tools they need to spot these injuries and the NHS hasn't freed up the resources to fix them."
As well as calling for mandatory training for teachers in England on brain injuries and concussion, MPs believe automatically screening everyone entering the criminal justice system – and treating them appropriately – could also cut reoffending rates.
Other recommendations in the 'Time For Change' report include giving all benefits assessors training to understand the potential effects of acquired brain injuries and reducing benefits assessments for such claimants to once every five years.
According to the group, suggested changes could save the NHS £5bn a year, with acquired brain injuries currently costing the UK economy £15bn per annum.
"Brain injury is not just another service that needs money, it's one of most cost-effective interventions that the NHS provides, and one of the few that results in long-term savings to the economy," Bryant said.
"If the government listen to this report and the large number of MPs from all parties that are calling for it we can improve lives, improve outcomes, save the government money."
The Department for Education has been contacted for comment.
Source: huffingtonpost