Two thirds of mums are still bearing the brunt of childcare compared to just a third of dads, research has revealed. More than 2,000 parents were surveyed to learn whether there has been a shift in how childcare duties are split and two fifths (41%) said they still don't think dads are held to the same standards by society as mums.
The divide exists despite regulations intended to make workplaces increasingly family friendly for both men and women, by requiring them to offer flexible working hours, the option to work from home and shared parental leave.
"I think the statistics are shocking but at the same time unsurprising," said mum-of-two Katy Fridman, 43, from London, who is the founder of a Facebook group named 'Flexible Working for Mums And Dads Like Me'. "However far we think we've come, childcare is still predominantly viewed as a woman's responsibility."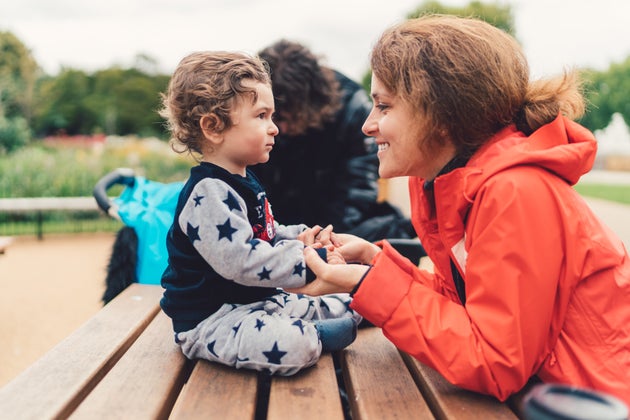 Fridman originally set up her Facebook group as a space for mums, but recently opened it up to include dads too. "Flexible working is not just a mum's right - if we enable dads to work flexibly too we make real changes and embrace true shared responsibility," she explained.
Dads are also more likely to be applauded for taking charge of childcare then women, the research by Direct Line Insurance found, as 12% of mums stated that they are never praised for looking after their children, compared to just 4% of men.
A bugbear for parents is when people use the term "babysitting" to describe looking after their own children. One in five (20%) parents find it distasteful when they hear someone say they "babysit" their own children, with mums (26%) more likely to be irritated than dads (14%). However, that may not be surprising as 9% dads happily admit to using the term "babysitting" to describe time spent with their own children, compared to just 2% of mums.
It's the culture of positivity, transparency and real-world examples across the spectrum of work that will drive a more balanced uptake."
Mum Rachelle Denton, 39, from London
So what will it take for society's view of women as being more likely to be the main child carer change?
Rachelle Denton, 39, who lives in London, is a creative strategist in marketing and has a one-year-old son. She balances her career with childcare for her son. "Unfortunately a change in law and opportunity doesn't equate to a change in cultural perception," she told HuffPost UK, responding to the statistics. "It's the culture of positivity, transparency and real-world examples across the spectrum of work that will drive a more balanced uptake. Fathers want to parent as much as mothers do, it's our culture that isn't helping them to do so yet."
Denton said she often hears parents - both men and women - share negative emotions about the impact of babies on careers and the subsequent childcare responsibilities. "I know fathers that have said that they would feel better about being a primary carer if the environment around them was less alien - more men at soft play, sharing experiences, grouping together. They're a sense for many of them that they'll be the only father in a sea of mothers," she said.
John Adams, founder of Dad Blog UK, agreed, adding that culture needs to change if we want the statistics to improve. "Despite what Direct Line says about societal attitudes changing, we still have a long way to go, especially in the workplace," he said. "A man's request for flexible working is twice as likely to be turned down as a woman's and in many workplaces, women receive enhanced maternity benefits whereas men have to make do with the statutory minimum."
Adams said men receive a constant drip feed of messages that their role is to work and provide, while women are told it's their job to nurture and protect. "Sure, we have moved on from the 1950s but men's abilities as caregivers needs to receive greater recognition, as do women's abilities in the workplace," he added.
Source: huffingtonpost