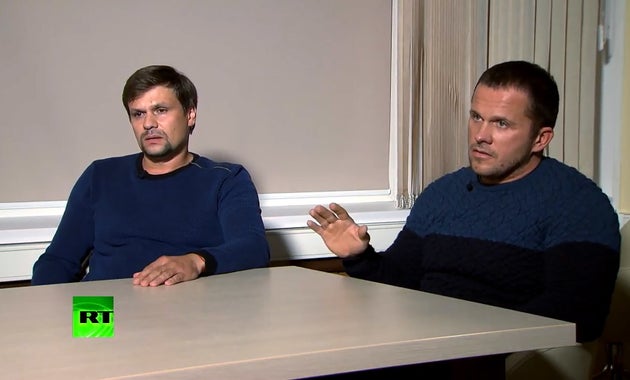 The two suspects in the poisoning of former spy Sergei Skripal have nothing to do with Russian President Vladimir Putin or the government, a Kremlin spokesman said on Sunday.
Alexander Petrov and Ruslan Boshirov have been identified by the UK Government as those being the attempted assassination of Skripal and his daughter Yulia by spraying Novichok on their front door in Salisbury in March.
"The fact is that neither Petrov nor Boshirov have nothing to do with Putin, and the Kremlin of course," Dmitry Peskov was quoted as saying.
Putin said on Wednesday that the two men were civilians and there was "nothing special and criminal" about them, Reuters reports.
But the Kremlin's denials ring hollow in light of revelations reported on Saturday that the two suspects did not exist before 2009, according to an examination of their passport records.
An investigation by Bellingcat and The Russian Insider revealed a number of anomalies that directly contradict Alexander Petrov and Ruslan Boshirov's claims they were merely "tourists" who visited Salisbury to see the city's famous cathedral in March of this year.
The biggest hole in the pair's story is the fact no record of either men exists from before 2009 when passports under their names were issued, which the report says "suggests the two names were likely cover identities for operatives of one of the Russian security services".
It has already been reported in Russian media that the passport numbers of the men are separated by only three digits (-1294 and -1297) meaning they were issued at almost exactly the same time.
Britain has said the two men were Russian military intelligence officers almost certainly acting on orders from high up in the Russian state. Russia has vehemently denied any involvement in the incidents.
Last week it was also reported two Russians agents were arrested and expelled from the Netherlands earlier this year, suspected of trying to spy on the lab where samples of the poison used on Skripal were being tested,
Skripal - a former colonel in Russian military intelligence who betrayed dozens of agents to Britain's MI6 foreign intelligence service - and his daughter were found slumped unconscious on a bench in Salisbury in March.
They spent weeks in hospital before being discharged.
Source: huffingtonpost