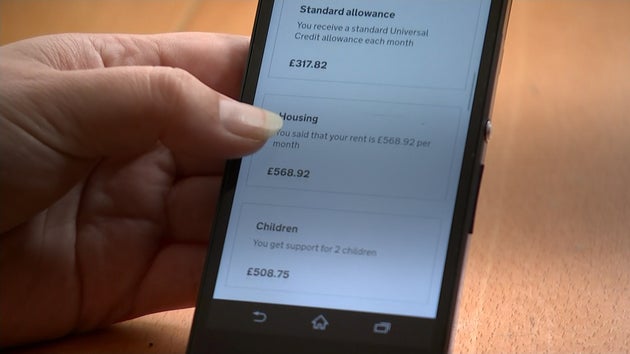 People attempting to sign on to crisis-hit Universal Credit say it is very difficult to provide the evidence needed for extra support, leaving benefits applications in limbo.
A damning report from Citizens Advice shows how many of those approaching the charity for help have struggled to tick boxes to prove their claims – missing out on vital payments as a result.
Citzens Advice, known for its nationwide network of bureaux, said its survey showed 48% of claimants found it difficult to provide evidence, particularly when it is needed to claim more support for health problems.
Some 40% said they had trouble proving they needed help with housing costs, while 35% said the same about childcare.
People can apply for extra payments if they prove they have a disability or health condition which prevents them from working, have children, or need help paying rent.
One mum-of-two had to wait an extra three weeks for her first full Universal Credit payment, which covered her rent.
She says she was not told to bring her tenancy agreement to her Jobcentre appointment, and struggled to get another appointment quickly.
In the meantime, she relied on a foodbank and borrowed money from friends to feed her family.
Citizens Advice is calling on the government to simplify the process for signing onto Universal Credit.
It said that one in four people it helped spent more than a week completing their claim.
Currently, claimants are made to wait five weeks for a first payment from the date they submit an application.
The delay is one week less than this time last year, after ministers backtracked in November amid mounting criticism of the policy.
What are the extra amounts?

People applying for Universal Credit can ask for extra money in some circumstances. Applicants must provide evidence to the Department for Work and Pensions. Extra payments include:

£277.08 for a first child born before 6 April 2017; £231.67 if born later;
£126.11 or £383.86 for a disabled or severely disabled child;
Up to £646.35 for childcare for a first child;
£328.32 if a person has limited capability for work.
Universal Credit was intended to make Britain's welfare system simpler by combining six benefits into one single monthly payment.
Hardship loans are made available to claimants who are struggling, as well as advance loans – but repayments for both are automatically deducted from a person's benefits over 12 months.
But the programme has been criticised by MPs for its complexity and apparent unfairness. The independent National Audit Office last month questioned whether the policy would ever deliver value for money.
And the High Court ruled that the government unlawfully discriminated against two disabled claimants when their income suddenly dropped after they were moved onto Universal Credit.
Gillian Guy, of Citizens Advice, said: "While Universal Credit is working for the majority of people, our evidence shows a significant minority are struggling to navigate the system. With people already having to wait 5 weeks as a matter of course for their first payment, any further delays risk jeopardising people's financial security.
"Last year the government showed it was listening by taking important steps to improve Universal Credit. Those measures are starting to have an impact, but more needs to be done. Top of the government's list should be simplifying the process and making sure adequate support is in place so that claims can be completed as quickly as possible."
A Department for Work and Pensions spokesperson said: "Universal Credit (UC) simplifies an out-of-date, complex system and we welcome Citizens Advice finding that it is working well for the majority of claimants.
"Asking people to give us evidence to support their benefit claim is not new and was a feature of the legacy system too.
"Under UC we continue to make it easier to access support - evidence can be submitted online, we can fast track appointments for customers in need and 100% advance payments can be made available within hours."
Source: huffingtonpost