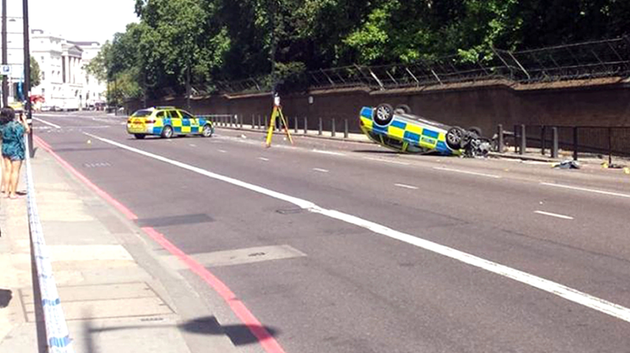 A police car overturned near Buckingham Palace on Saturday and a teenager was taken to hospital after officers chased a moped through central London.
Scotland Yard said a 17-year-old was arrested on suspicion of a number of motoring offences after he was taken to hospital with leg injuries.
The police car crashed in the early hours of Saturday with a moped and two people riding it.
The Independent Office for Police Conduct (IOPC) is now investigating after the collision in Grosvenor Place, outside the palace's grounds.
A Met spokeswoman said officers spotted a moped at 4.30am at nearby Hyde Park Corner.
"The vehicle, rider and pillion passenger matched the description of a moped believed to have been involved in a series of offences," she said.
Shortly after being pursued by a police car, she said the moped collided with a second police car travelling in the opposite direction at the junction with Chapel Street.
A second person is being hunted after fleeing the scene, police added.
A spokesman from the police watchdog said: "An independent investigation has been launched following a collision between a moped and a marked police car in Westminster, London, this morning.
"A 17-year old boy has suffered serious leg injuries and been taken to hospital. A police vehicle overturned during the incident but no police officers have sustained injuries."
Source: huffingtonpost