Tonight, 11-year-old Ella Chadwick receives a Pride of Britain award for her incredible show of kindness in the face of life-threatening health challenges.
Born with congenital nephrotic syndrome, a kidney condition which quickly led to kidney failure, Ella had a transplant from her dad when she was just three-years-old. However, it failed immediately due to a blood clot.
"She had quite a complex medical history with all the blood clots and blood pressure issues," Ella's mum Karen Hughes, 37, tells HuffPost UK. "She's had strokes, she's had sepsis, she's had pneumonia. She was in hospital more than she was at home really."
But thanks to a second life-saving kidney transplant four years ago from her grandma, Ella is not only doing better but has raised thousands of pounds for Royal Manchester Children's Hospital where she spent much of her childhood.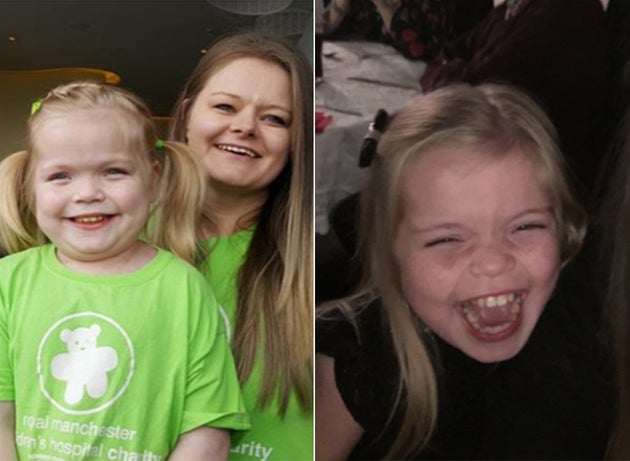 Chadwick, who received the Child of Courage Award at Monday night's ceremony in London, spent her summer holidays in 2016 hand-making 250 'get well soon' cards for kids at the hospital whom she barely knew.
Asked why it felt so important to her to do this, Ella replied simply: "Because I wanted to make them better."
Another one of her biggest achievements was taking part in the 2015 Great Manchester Mini Run, for which her hospital had nominated her as a race-starter. But Ella didn't want to just start the race, she wanted to finish.
With the help of her walking frame, and despite her complicated health history, she completed the 2km run. And her determination didn't stop there either. On her 10th birthday, Ella set herself the challenge of running 10km of races in a year – an achievement she ticked off proudly this summer.
Discussing her daughter's award, mum Karen said: "I'm very, very proud."
It's a far cry from the time when she and Ella's dad, Martin Chadwick, 39, were told their daughter might not live until the end of the week. "We did get told at one point that she couldn't have another [transplant], nothing else could be done and she just had a few days left to live," Karen recalls.
"But luckily we managed to get a transplant and she got a working kidney, which she's had for four years now."
The bubbly youngster has raised a whopping total of £5,000 through various fundraising activities including taking part in the Great Manchester Mini Run.
Acknowledging her award win in a phone call with Huff Post UK before the ceremony, Ella said excitedly: "It's amazing. It's a dream come true."
The Daily Mirror Pride of Britain Awards will be broadcast on ITV on 6 November at 8pm.
HumanKind is HuffPost's celebration of kindness, featuring people who do incredible things for others or the planet – transforming lives through small but significant acts. Get involved by joining us on Facebook or telling us about the people who you think deserve recognition for their kind works. You can nominate them here or share your personal story by emailing natasha.hinde@huffpost.com.
Source: huffingtonpost