Asos, Wrangler and Primark are among the major fashion brands that are becoming more transparent about their supply chains, according to a report published today [Monday 23 April] to mark Fashion Revolution Week.
But the third annual Fashion Transparency Index, which ranked 150 major global brands according to how much they are willing to reveal about their social and environmental practices, shows that the industry has a long way to go before it can confidently tell us "who made my clothes" and guarantee that the entire supply chain is ethical, sustainable and does not exploit any workers.
Adidas and Reebok were the brands found to be the most transparent, closely followed by Puma, H&M, Espirit, Banana Republic, Gap and Marks & Spencer, all with a rating of more than 50% of a possible 250 points.
However, many online and high street favourites scored less than 10%, including Amazon, Urban Outfitters, Anthropologie, Forever 21, Claire's Accessories, Matalan, Foot Locker, Sports Direct, Calzedonia, Sainsbury's Tu Clothing, Triumph and Monsoon/Accessorize.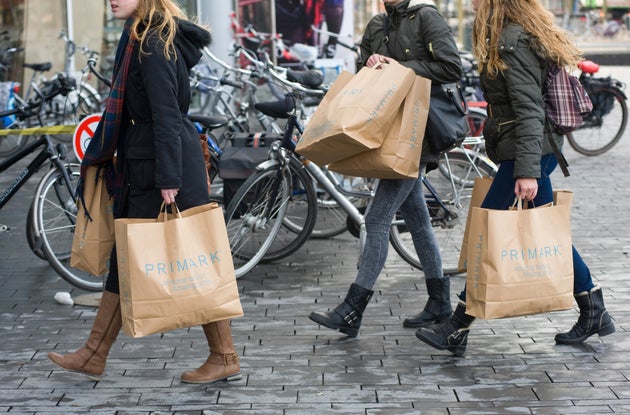 There were also plenty of luxury labels that scored less than 10% including: Dolce & Gabbana, Chanel, Marc Jacobs, Diesel, Versace, Armani, Valentino and Carolina Herrera. And Nine West, Dior, Desigual and Max Mara all scored 0%.
Brands that have significantly increased their level of transparency include:

+22% The North Face, Timberland, Wrangler
+19% C&A
+18% ASOS
+17% Esprit
+16% Benetton
+12% Primark, Next, New Balance, Levi Strauss & Co.
+11% LOFT, Hugo Boss, Under Armour, Lululemon, Zalando

This increase is largely due to these brands publishing their supplier lists either for the first time or with much greater detail.
The report found that things are slowly moving in the right direction. More brands have published a list of where their clothes are cut, sewn and completed (37% up from 12.5% two years ago) and 62% of brands (up from 40% in 2017) are disclosing their process for fixing problems when violations are found in a supplier factory.
However, with none of the brands scoring more than 60% there is still a lot of room for improvement. Orsola de Castro, the co-founder of Fashion Revolution, said that taking steps towards transparency are "vital for vigilance, inclusion and accountability", as when human rights and environmental abuses occur transparency makes it easier to understand what went wrong, who is responsible and how to fix it.
The Transparency Index has been published at the start of Fashion Revolution Week, which sees consumers asking brands #whomademyclothes and marks the fifth anniversary of the Rana Plaza disaster, when 1,134 people were killed in a garment factory collapse in Bangladesh.
The Fashion Revolution campaign believes that although change is slowly happening, "most companies are still operating in broadly the same way that enabled the RanaPlaza disaster to occur."
Nazma Akter, a Banglahdesi trade unionist, began working in a clothing factory at the age of 11, alongside her mother, often doing as many as 70 hours a week. Akter joined a trade union because the women working in the factory were abused and poorly treated. She said: "If unions and workers in Bangladesh have a list of where brands are manufacturing, it is so much easier for us to resolve problems quickly. We can address issues directly with brands.
"Disclosing information about working conditions helps us better understand and solve issues facing women workers in Bangladesh, such as health, childcare, maternity rights, female leadership and living conditions and wages. Ultimately, everybody should be more transparent. Fashion brands and retailers, governments, trade unions and suppliers need to respect and trust each other and work together with openness and honesty."
At a press conference to launch the report, Debbie Coutler, head of programmes at the Ethical Trade Initiative, also reminded everyone that problems with working conditions happens close to home also."worker explotation thrives in hidden places. Places like London, Braford, Leicester and Manchester, where worker have been paid £3 an hour. Tackling abuse works when everything's out in the open."
An ambassador for Adidas argued that there are people working on sustainability within these companies every day, but it's not easy to track every cotton farm and everyone involved, as there are thousands of locations around the world. Fashion Revolution co-founder, Carry Somers, agreed that the fight for sustainability is not an easy one, but how brands are responding to the report by upping their game proves that improvements can be made.
"Over the last five years, millions of consumers have demanded a fairer, safer, cleaner industry. It's working. We can see that brands are listening and the industry is starting to change," said Somers.
In response to the report a spokesperson for Sports Direct told HuffPost UK: "We are committed to responsible business practices in our own business and within our supply chain. We continue to procure goods from suppliers who have proved to uphold ethical employment and trading practices, and we have a strict Code of Conduct."
Source: huffingtonpost