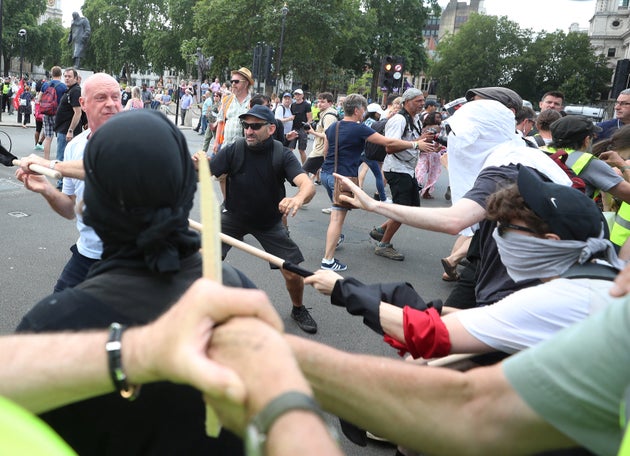 A union leader was attacked after speaking at a counter-protest to a rally in support of Donald Trump and jailed far-right leader Tommy Robinson.
Steve Hedley, senior assistant general secretary of the RMT, was assaulted by supporters of the US President and Robinson, according to anti-fascism campaigners Hope Not Hate, but the perpetrators could not be immediately verified independently.
Witnesses said a mob ambushed two men at the Westminster Arms pub in central London on Sunday afternoon in a targeted attack.
"They (the attackers) knew what they were doing," one witness, who asked not to be named, said.
Smashed glass was strewn across the pavement outside the establishment on Storey's Gate, and pictures showed Hedley with a bandaged head and bloodied face.
Scotland Yard feared violence ahead of the rally in support of Trump during his visit and 35-year-old Robinson, who was jailed for 13 months for contempt of court after filming people involved in a criminal trial and broadcasting the footage on social media.
Both demonstrations were kept separate by police but scuffles broke out as some of the demonstrators met.
Twelve people have been arrested.
No official estimates of the number of attendees have been released but pictures posted on social media suggest both marches were in the low-thousands.
The 'Free Tommy Robinson' demonstration centred around Whitehall where activists applauded and cheered when a large cut out picture of Donald Trump was unveiled.
The few thousand strong group were made up of a handful who were on a "Welcome Trump" march and another larger one in support of a jailed far-right activist.
Both were dwarfed by the huge anti-Trump march that brought central London to a standstill on Friday as 100,000 people gathered in Trafalgar Square.
Some outside Downing Street waved "Britain Loves Trump" placards, wore Trump's red Make America Great Again caps and cheered at mentions of the US leader, but the main focus was Robinson, real name Stephen Christopher Yaxley-Lennon.
The Metropolitan Police said Trump supporters were due to leave the US Embassy and meet Robinson fans on the way to Whitehall, but ordered both must depart Temple Place and follow a strict route after "serious violence" at a June 9 march resulted in five officers being injured.
A small group on Saturday breached the order by starting at the US Embassy, pictures on social media showed.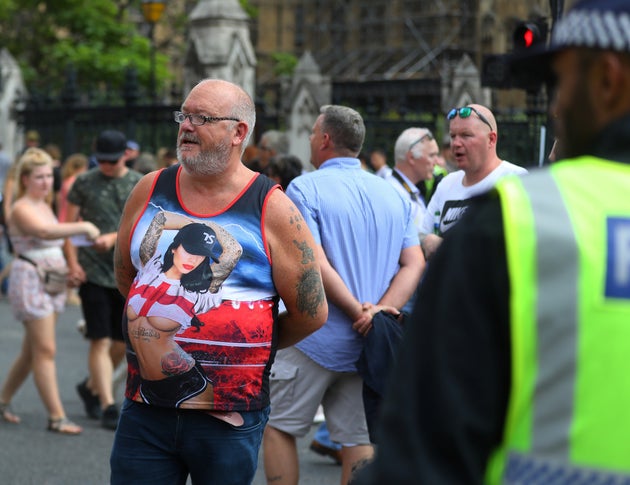 Images also showed minor clashes between supporters and opponents in Parliament Square, and officers at the scene said cordons had been bolstered after breaches from the right-wing group.
The Met could not immediately comment on Hedley's attack.
The force said a total of 12 people have been arrested as part of the demonstrations.
Robinson, whose real name is Stephen Christopher Yaxley-Lennon, was locked up in May after he filmed people involved in a criminal trial and broadcast the footage on social media.
The footage, lasting around an hour, was watched 250,000 times within hours of being posted on Facebook.
The far-right activist was given 10 months for contempt of court, which he admitted, and a further three months for breaching a previous suspended sentence.
Despite the legal justification for his imprisonment, speakers addressing the pro-Robinson crowd in London on Saturday continued to insist it was a freedom of speech issue and he was jailed for airing his opinions.
Also on Staurday, Reuters reported that Sam Brownback, the US Ambassador for International Religious Freedom, complained to the British ambassador in Washington DC about the treatment of Robinson.
Brownback raised the case of the activist known as Tommy Robinson in a June meeting with Sir Kim Darroch, Britain's Ambassador to the United States, according to a British official and two sources close to the organisers of a pro-Robinson demonstration planned for London on Saturday.
Robinson, whose real name is Stephen Yaxley-Lennon, though he also uses other aliases, is a founder of the English Defence League, which has organised violent demonstrations against Islamic immigrants in the UK in the past decade.
More recently, Robinson has branded himself a journalist and campaigner against Islamic extremism, a move that won him contacts with American anti-Muslim activists.
Source: huffingtonpost