Acro-paraglider Horacio Llorens has finally filled a lifetime ambition of 'dancing with Aurora' and the results were spectacular.
Llorens is one of the world's best acro-paragliders and has been trying for years to combine his passion for flying and the Northern Lights but the beautiful natural phenomenon has remained elusive.
In all his years of professional paragliding, Llorens has flown all around the world, but travelling to Norway earlier this month in hope of capturing the Northern Lights was something he "couldn't turn down".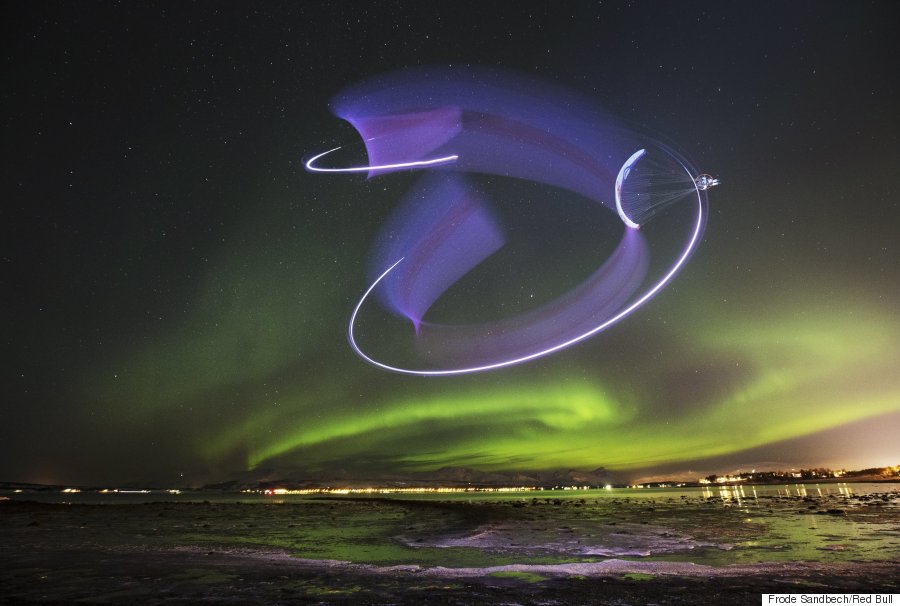 Horacio Llorens performs during the Aurora Borealis in Tromsø, Norway on January 13, 2016.
To capture these stunning photos, Llorens was on stand-by for hours in -15°C and because he flew above the water, he also wore a wetsuit under his flying outfit in case he had to land on the 2°C water.
"I've found out that flying at night is difficult, especially this far north and during the winter," Llorens explained. "Tromsø was different from everything I'm used to. It was cold and dark, the wind was strong, and I was surrounded by water. So every decision was important."
The professional paraglider said: "Aurora is very shy," he laughed. "I've asked her out many times, but every time she was a no show.
"It felt fantastic [when it finally worked out]. I'm very fortunate to have had this opportunity and to have this as a job. I will definitely come back to Tromsø, but the next time will be during the summer!"
-- This feed and its contents are the property of The Huffington Post, and use is subject to our terms. It may be used for personal consumption, but may not be distributed on a website.
Source: huffingtonpost