Following unprecedented chaos on the railway networks this week, the news that outgoing boss of Network Rail, Mark Carne, is to receive a Queen's birthday honour is not likely to sit well with commuters.
Carne, who announced his departure as chief executive of Network Rail in February, has been made a Commander of the Order of the British Empire.
He joins around 1,350 people on the Queen's honours list, many of them gaining MBEs, CBEs, OBEs, and knighthoods.
However, the announcement is likely to be met with intense criticism after commuters across the North faced weeks of rail chaos due to a change of timetable, with thousands left stranded after trains were cancelled or severely delayed.
The Transport Secretary, Chris Grayling, blamed the service breakdown on Government-owned Network Rail for late-running engineering projects, however Govia Thameslink Railway and Northern trains were also running reduced services.
On Monday, more than 100 trains were cancelled or severely delayed, affecting passengers in Manchester, Lancashire and the Lake District. Thameslink, Southern and Great Northern also introduced a reduced service.
The disruption led to 25 northern newspapers joining forces to send a front-page "enough is enough" to the Government and calls for Network Rail bosses to resign.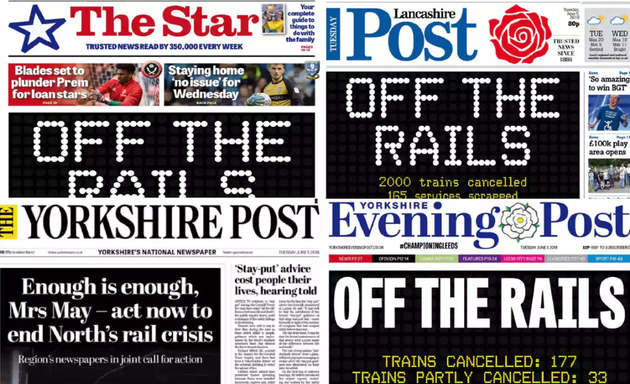 The disruptions show no signs of ending with staff at Northern Rail set to stage a series of fresh strikes over a long-running dispute over the role of guards on trains on June 19, 21 and 23, the Liverpool Echo reported.
Carne, a former Shell oil executive, joined Network Rail in 2014 and steered the company though its reclassification into the public sector.
The timing of his resignation means a new chief executive will be in place before Network Rail's next five-year work programme begins in April 2019.
Announcing Carne's departure, Network Rail said he had led a "transformational change" at the company and had delivered "the biggest projects in the history of the company, such as the iconic London Bridge station, which opened on schedule last month, and Birmingham New Street station in 2015".
Speaking on behalf of the Board, the chairman of Network Rail, Sir Peter Hendy CBE, said at the time: "Mark has done an outstanding job and I want to applaud him for what he has achieved in his time at Network Rail. His leadership steadied the ship during the challenging transition to a public sector organisation and he has been the architect behind the huge positive changes in the company, driving transformation, devolution and efficiency, with an emphasis on equality and diversity too."
Grayling added that Carne had done an "excellent job" presiding over the "biggest modernisation of our rail infrastructure since Victorian times".
"He has provided very strong industry leadership on safety and digital rail, and Network Rail has significantly improved the railway for its customers under his direction," he said in February.
While Carne was recognised in the honours, those who responded to the Grenfell Tower blaze on June 14 last year are still yet to be honoured for their bravery. Seventy two people died in the tragedy.
Questions were raised in December 2017 when Grenfell's hero respondents were not recognised in the New Year's Honours, but authorities reassured the public that it was due to the time it took to process nominations.
In the wake of the latest omission, the Government has again reiterated that Grenfell respondents will be recognised "at the earliest opportunity".
A public inquiry into the tragedy may well impact decisions with the Metropolitan Police saying this week that they are investigating the fire brigade's 'stay put' directive issued to residents.
The other honourees...
Meanwhile, Liverpool football great Kenny Dalglish is to be been knighted for his steadfast support for the Hillsborough families in their lengthy quest for justice following the 1989 disaster that claimed 96 lives.
Author Kazuo Ishiguro will also receive a knighthood, less than a year after winning the Nobel Prize for Literature.
Ishiguro said he was "proud of Britain, its open, democratic traditions and literary culture".
Leading actresses Emma Thompson and Keira Knightley have also been honoured.
Thompson, a stalwart of the big and small screen since the late 1980s, has been made a Dame for services to drama and Knightley will receive a OBE for services to drama and charity.
Rapper Ms Dynamite will be recognised with an MBE for services to music and footballer Jermain Defoe is to receive a OBE for services to football and the Jermain Defoe Foundation.
In what might be the most heartwarming inclusion, Britain's longest selling poppy seller, Rosemary Powell, is to receive an MBE.
At 103, Powell, a former nurse in the Second World War, finally decided to stop selling poppies, Sky News reported earlier this month. She had done so for 97 years.
Powell began selling poppies at the age of six with her mother for the Royal British Legion's first Poppy Appeal in 1921.
Source: huffingtonpost