Police have revealed that the substance used against a Russian MI6 spy and his daughter is a nerve agent and the pair were poisoned in a "targetted" act.
The Met said on Wednesday they were treating the incident as attempted murder as Sergei Skripal, 66, remains critically ill in intensive care along with his 33-year-old daughter, Yulia.
Giving a news conference at Scotland Yard, the Metropolitan Police's Assistant Commissioner, Mark Rowley, did not reveal the exact substance or how it was administered.
He added a police officer who was one of the first on the scene in Salisbury is seriously ill and receiving intensive care in hospital. Sky News reported all three victims were in a coma.
Nerve agents - which have been used to deadly effect in assassinations and conflicts of the past - are liquid gases that can seep through the skin.
Earlier this week, the United States said North Korea used the toxin VX nerve agent to assassinate leader Kim Jong Un's half-brother in Malaysia in 2017.
As police teams carried out equipment from Skripal's home on Wednesday night, Foreign Secretary Boris Johnson renewed his warning that the UK will "respond robustly" if the poisoning was the result of "hostile activity" from another country.
On Thursday, Home Secretary Amber Rudd is expected to address the House of Commons with update on events in Salisbury.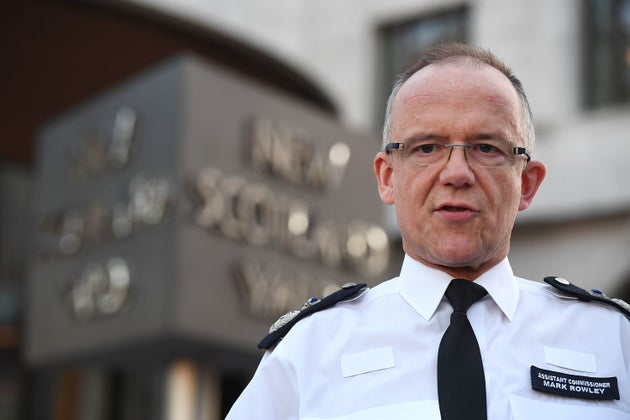 Confirming the poisoning was "targeted specifically", Rowley told the news conference: "This is being treated as a major incident involving attempted murder by administration of a nerve agent.
"As you know, these two people remain critically ill in hospital.
"Sadly, in addition, a police officer who was one of the first to attend the scene and respond to the incident is now also in a serious condition in hospital.
"Wiltshire Police are, of course, providing every support to his family.
"Whilst we are now in a position to confirm that their symptoms are as a result of exposure to a nerve agent, I will not be providing further information at this stage about the exact substance which has been identified."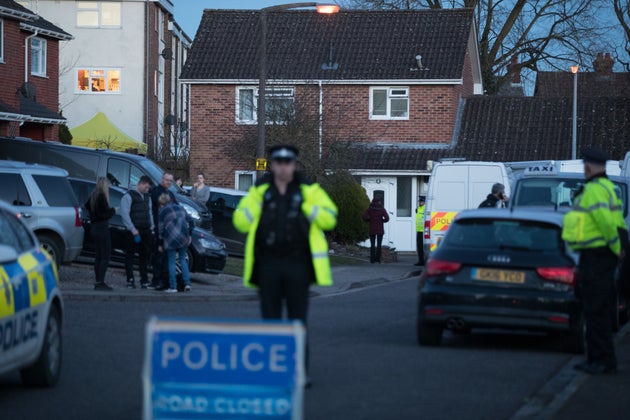 Rowley said the force was working with scientists, including from Public Health England, but added that "at the moment we are not seeing any evidence of a widespread health risk".
He continued: "Our role now is to establish who is behind this and why they carried out this act.
"To that end we have hundreds of detectives, forensic specialists, analysts and intelligence officers working together around the clock on the case, for example examining hundreds of hours of CCTV and building a detailed timeline of events."
Police officers in protective clothing will continue to be visible in Salisbury, Rowley said, with work in the town likely to take several more days.
Responding to Rowley's statement, Rudd said: "As the police have said this is an ongoing investigation and, along with the other services, they must be given the space they need to continue establishing the full facts."
Speaking alongside Rowley, Professor Dame Sally Davies, the UK's chief medical officer, described the risk to the public after the incident as "low".
Praising the role of the emergency services, she said: "All the sites that the patients were known to have visited have been secured, so the public are protected.
"At this time, with the evidence we have, this is a low risk to the public."
WHAT IS A NERVE AGENT?

Nerve agents have been used to deadly effect in assassinations and conflicts of the past.

The toxic substance disrupts signals in the nerves, causing debilitating side effects which can be fatal.

Vladimir Putin – now in the frame following the attempted murder plot in Salisbury – drew international condemnation for defending the Syrian regime after it launched a suspected Sarin gas attack on its own people last year.

Different forms of it have evolved, including Sarin, VX and Tabun, all of which have very similar structures and appear to work in the same way.

Professor Malcolm Sperrin, a fellow of the Institute of Physics and Engineering in Medicine, has described how nerve agents work.

He said: "Nerve agents work by disrupting signals in nerves, at the synapses between nerves. Different agents work in different ways and have different volatilities. What we don't know yet is what particular agent has been used here.

"I'm not aware of a nerve agent having been used in this way previously. Nerve agents are offensive weapons, and there has been some previous suggestion they might have been used in warfare around the world.

"Symptoms of exposure to nerve agents may include respiratory arrest, heart failure, twitching or spasms – anything where the nerve control is degraded.

"It is very unlikely there will be any issues in the environment, and it is very unlikely the nerve agent will still be around now.

"Nerve agents can cause death, but not necessarily at low-level exposure or with a minor dose."
The pair were found slumped unconscious on a park bench in centre of Salisbury, a city in the south of England on Sunday afternoon, having earlier gone to Zizzi's restaurant and a nearby pub, The Mill.
Around 1pm today several police officers and paramedics were seen inside Sarum House, next door to the pizzeria.
A woman with dark hair, escorted by officers, was taken out of Sarum House, put into an ambulance and driven away. She was said to be in her 40s.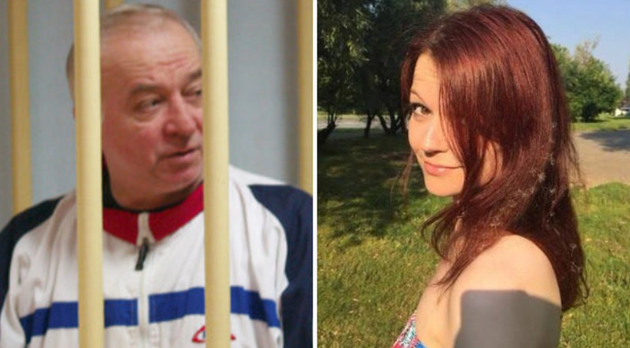 The office building is the latest location in the city to be closed off.
Police have already secured the park where the pair were found, Zizzi's, the nearby Mill Pub, Skripal's house, an ambulance station and part of the hospital where they are being cared for.
The latest development came as new footage emerged showing Skripal shopping in the days before his collapse has emerged.
In the footage obtained by ITV News, Skripal, is seen chatting to the shop attendant, appearing at ease and cracking a smile as he hands over cash for milk, scratchcards and food.
A timestamp on the video says it was captured at around 12.45pm on February 27, five days before he and his daughter were found unconscious.
Following an emergency Cobra meeting at Whitehall this morning, Rudd indicated that more was now known about the substance used in the attempt.
Rudd added that the investigation was going to be "lengthy" and said authorities needed to keep "a cool head and make sure that we collect all the evidence we can, and we need to make sure that we respond, not to rumour, but to all the evidence that they collect, and then we need to decide what action to take".
The meeting came as relations between the UK and the Kremlin soured on Tuesday after Johnson went on the offensive in the House of Commons.
Addressing MPs about the "disturbing incident", Johnson noted that this case had "echoes" of the death of Alexander Litvinenko, a Russian dissident who was fatally poisoned in London in 2006.
Speaking on Wednesday, Prime Minister Theresa May confirmed reports the Government would look at whether ministers and dignitaries should attend the World Cup in Russia if Kremlin links are proven in the Salisbury attempt.
Her comments came at Prime Minister's Questions after Foreign Secretary Boris Johnson told MPs it would be "very difficult to imagine that UK representation" at the World Cup could "go ahead in the normal way" this summer.
May, answering a question from Labour MP Toby Perkins on the matter, said: "The point the Foreign Secretary was making yesterday was that depending on what comes out in relation to the investigation, into the attack on the two individuals that took place in Salisbury, that it might be appropriate for the Government to look at whether ministers and other dignitaries should attend the World Cup in Russia."
Skripal was convicted in 2006 of passing state secrets to MI6 before being given refuge in the UK as part of a spy swap.
Source: huffingtonpost