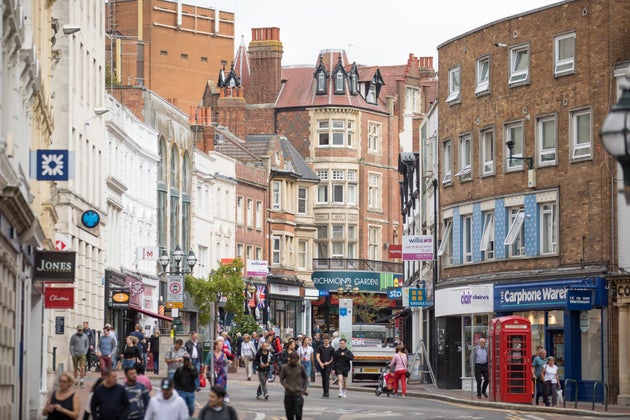 Prices in shops increased for the second time in as many months in September – the first consecutive rise in five years, according to one measure of inflation.
Figures from the BRC-Nielson Shop Price Index showed an increase of 0.2%, up from 0.1% in August.
Food inflation, which has driven much of the increase, remained steady at 1.9%, the index showed, while non-food prices deflated by 0.9% – a lower decrease than last month.
Consumers are expected to cut back on non-food purchases in order to manage soaring cost of groceries.
The figures contrast with the Consumer Price Index (CPI) figure of inflation of 2.7% last month. CPI includes the cost of services, recreation and culture.
Nielsen's Mike Watkins said: "Looking ahead we expect shoppers to maintain their grocery spend by making savings elsewhere in their overall household expenditure."
Richard Lim, of consultancy Retail Economics, said the ability for retailers to continue to absorb the rising cost of oil and commodities was reducing. "Inflation is stickier than we had expected," he said. "Over the past few months, we've seen oil creep up to around $80 a barrel, pushing up sourcing costs.
"We've also seen growing commodity prices in terms of food and it is food that is really driving inflation."
Lim added that British consumers can be thankful that discounters like Aldi and Lidl have helped maintain a "hugely competitive" market which keeps prices down.
The British Retail Consortium (BRC), which represents big retailers, said the figures suggested price rises could continue in the weeks and months to come.
The BRC's Helen Dickinson said: "Global commodity conditions, in particular oil prices, would indicate that there are likely to be further inflationary pressures in the short to medium term which could lead to further price rises."
Dickinson warned the figures do not take into account the effect of a "no-deal" Brexit. The BRC has argued in favour of a "workable backstop arrangement and a clear transition period" to help ward off a sudden shock.
"Food prices alone have now been inflationary for more than a year and the BRC estimates that consumers could face up to a 29% increase in prices of products such as beef in the event of a 'no-deal'," she said.
A report commissioned by Barclays bank and published last week found food retailers and suppliers could lose £9.3 billion as a result of tariffs brought in after a "no-deal".
Source: huffingtonpost